Print me
Introduction
Tomatoes work in different ways in this recipe: they create a wonderful sauce with the coconut milk, which is used to flavour and cook the rice, and then they float to the top to decorate the dish. The end result is a dish delicious enough to stand on its own feet without the need for anything else and (as a side benefit) it uses just a single pan. You'll need a wide frying pan with a tight-fitting lid.
NOTE: curry leaves add a lovely citrus and smoke flavour to the rice but can be tricky to find unless you live near an Asian supermarket, although larger supermarkets do have them sometimes. If you can't find them, leave them out.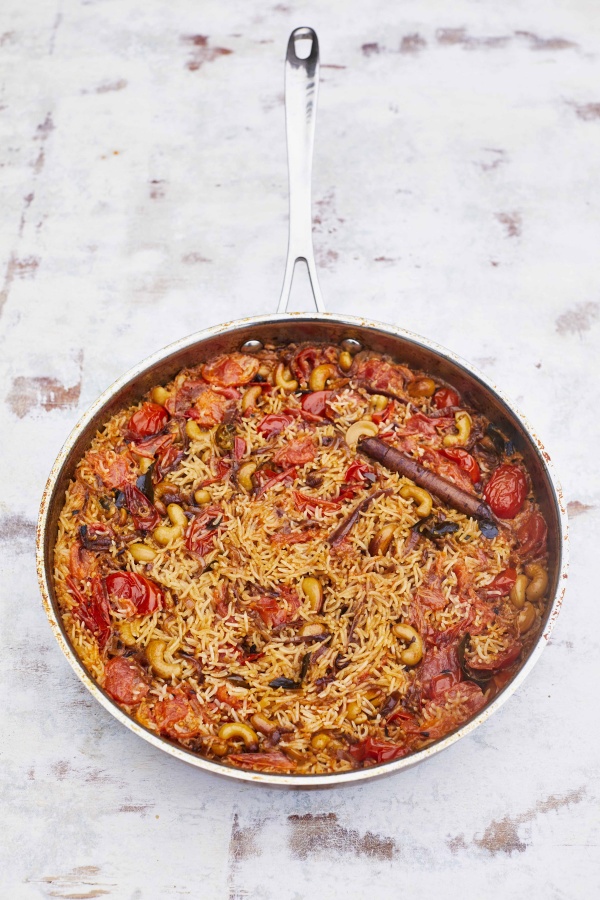 Ingredients
Serves: 4 as a main
350 grams basmati rice
2 tablespoons rapeseed oil
12 fresh curry leaves
1 x 4cm cinnamon stick
1 large onion (finely sliced)
4 cloves of garlic (crushed)
1 green finger chilli (finely sliced)
50 grams unsalted cashew nuts
400 grams baby plum tomatoes (halved)
1 x 400 millilitres tin of coconut milk
1¾ teaspoons salt
Method
Summer Pilau with Tomato, Coconut and Cashews is a guest recipe by Meera Sodha so we are not able to answer questions regarding this recipe
Wash the rice in a few changes of cold water until the water runs clear, then leave to soak in plenty of cold water.
Meanwhile, heat the oil in a wide frying pan and add the curry leaves and cinnamon stick. Stir-fry for a minute, then add the onion and cook for around 10 to 12 minutes, until it starts to turn golden brown and is soft enough to cut with a wooden spoon. Add the garlic, chilli and cashews, and cook for a couple of minutes, then add the tomatoes and pop the lid on. Cook for around 8 minutes, until the tomatoes are soft and jammy around the edges.
Drain the rice, add it to the pan and stir to combine. Add the coconut milk, 200ml of water and the salt. Stir again and bring the mixture to the boil, then pop the lid on, turn the heat down to a whisper and cook for a further 15 minutes. Don't be tempted to lift the lid as the steam is key to cooking the rice. Once the 15 minutes is up, take off the heat and keep the lid on for a further 10 minutes to let the rice rest before eating. Serve alongside a fresh green salad.
Other recipes you might like