Print me
Introduction
Kebab shop 'chips with mayo' are the inspiration for this dish, although this version is a little more involved. There's a generous sauce-to-potato ratio here, which is kind of naughty, but also what you really, truly want.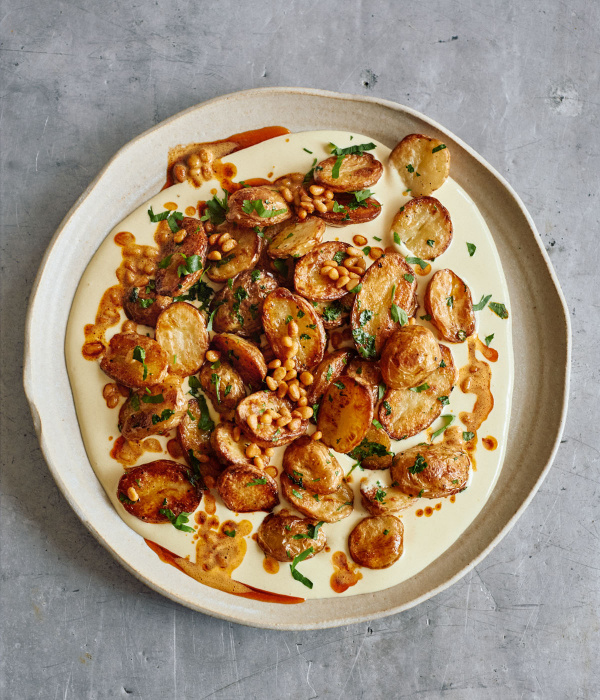 Ingredients
Serves: 4, as a side
750 grams baby new potatoes (halved lengthways)
2 tablespoons olive oil
5 grams fresh parsley (roughly chopped)
salt and black pepper
Garlic Aïoli
2 large cloves of garlic (crushed)
1 teaspoon Dijon mustard
1 large egg plus 1 yolk
100 millilitres olive oil
100 millilitres sunflower oil
1 tablespoon lemon juice
75 grams Greek yoghurt
Pinenuts
30 grams unsalted butter
20 grams pinenuts
¼ teaspoon smoked paprika
Method
Roasted Potatoes with Aïoli and Buttered Pinenuts is a guest recipe by Noor Murad and Yotam Ottolenghi so we are not able to answer questions regarding this recipe
Preheat the oven to 220°C fan.
Put the potatoes and 2 teaspoons of salt into a medium saucepan and pour over plenty of cold water, to cover by about 4cm. Place on a medium-high heat, bring to the boil, then simmer for 6 minutes, or until the potatoes are almost cooked through but with a bite. Drain them through a sieve and pat dry, then transfer to a parchment-lined baking tray and toss with the oil, ⅓ teaspoon of salt and a good grind of pepper. Roast, stirring once or twice, for 35 minutes, or until deeply golden. Stir through the parsley.
Meanwhile, make the aïoli by putting the garlic, mustard, egg, yolk and ¼ teaspoon of salt into the small bowl of a food processor and blitzing until combined, about 10 seconds. With the machine still running, add both oils in a very slow and steady stream, until you have a loose mayonnaise-like consistency. Transfer to a bowl, stir in the lemon and yoghurt and set aside (or refrigerate) until needed.
Put the butter into a small sauté pan on a medium heat. Once melted, add the pinenuts and cook until golden, about 3–4 minutes. Stir through the paprika, then remove from the heat and transfer to a bowl.
Spread the aïoli out on a round shallow platter. Top with the warm potatoes and spoon over the buttered pinenuts.
Additional Information
Make it your own:
– If you can't get hold of baby new potatoes, just use regular new potatoes and cut them into 1½cm slices.
– Play with your nuts. Roughly chopped blanched almonds or hazelnuts would work great here!
Other recipes you might like