Print me
Introduction
Tahini, a paste made from sesame seeds, has a powerful flavour - reminiscent of peanut butter but far more bitter. Yet, lightened with lemon zest and well sweetened, it mellows to a gentler nuttiness. The result is a delicate biscuit, as tender as shortbread but without the heaviness. You'll find tahini in the vaguely named 'World Foods' section of most supermarkets, and in many North African, Turkish and Middle Eastern grocery stores.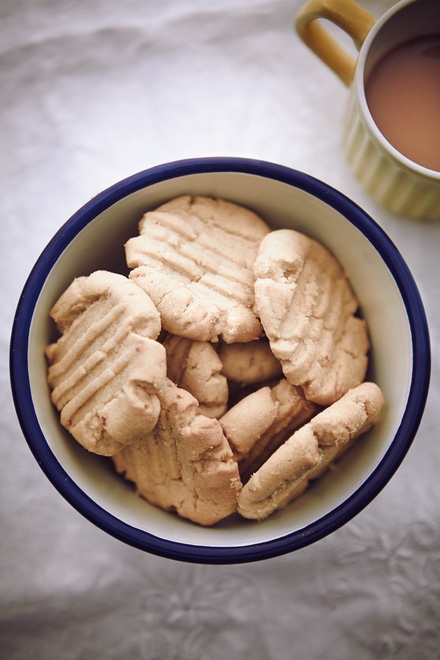 Ingredients
Makes: about 24
120 grams unsalted butter (softened)
120 grams tahini
120 grams caster sugar (or granulated)
zest of 2 lemons
240 grams plain flour
1 teaspoon baking powder
Method
Tahini Lemon Biscuits is a guest recipe by Ruby Tandoh so we are not able to answer questions regarding this recipe
Preheat the oven to 180°c/fan 160°c/gas mark 4 and line a large baking tray with a sheet of baking parchment.
Cream the butter, tahini and sugar together until pale and fluffy, then mix in the lemon zest. In a separate bowl, combine the flour and baking powder. Stir the flour mixture into the wet ingredients, mashing gently under the back of a spoon to combine.
Roll out 24 conker-size balls from the mixture and space them apart on the baking tray. Pat each ball down to a flattish disc, about 1cm thick. It doesn't matter in the slightest if the biscuits have little cracks around the edge. You can use a fork at this point to make lines or a crosshatch pattern on the top of the biscuits.
Bake for 12-15 minutes; the edges should be golden brown. The biscuits will be very crumbly when first baked but leave them on the tray and they will become firmer as they cool. Once cold, transfer them to a wire rack.
Other recipes you might like