Print me
Introduction
Call me biased but I love feta. I always say, 'Feta makes everything better' – I'm aware that rhyming doesn't help my cool factor, but feta is cheap, easy to find, incredibly versatile… need I say more? This recipe is fun and couldn't be simpler. The preserved lemon jam comes together in minutes and works incredibly well with the deep-fried salty feta. I kid you not – this delicious dish impresses everyone and is perfect for sharing.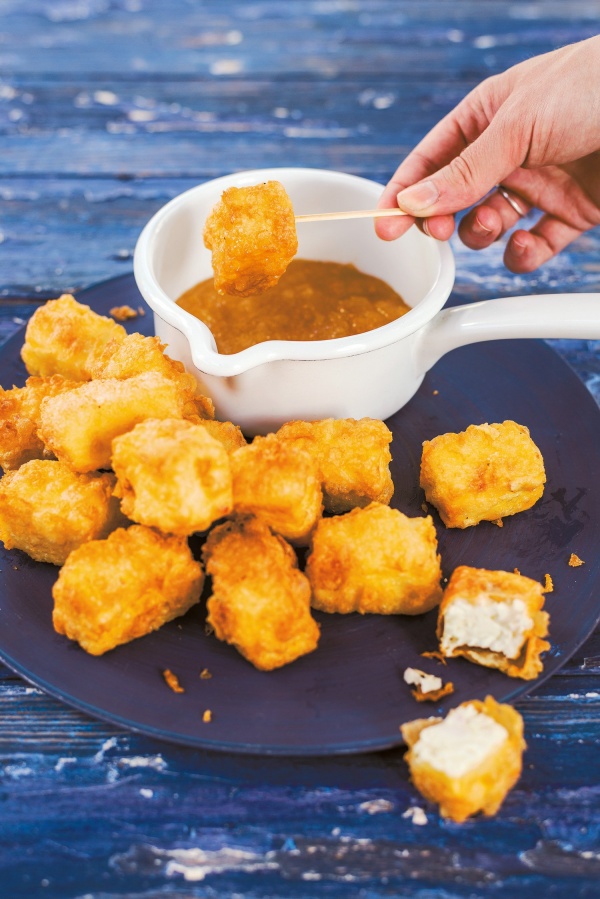 For the feta
vegetable oil for frying
400 grams feta cheese (2 x 200g blocks, each cut into 8 cubes)
150 grams self-raising flour plus extra for dredging
1 egg
100 millilitres ice-cold water
For the preserved lemon jam
6 preserved lemons (pick the largest ones in the jar), deseeded and finely chopped
6 tablespoons caster sugar
Method
Feta Bites With Preserved Lemon Jam is a guest recipe by Sabrina Ghayour so we are not able to answer questions regarding this recipe
First, make the jam. Set a small saucepan over a medium heat. Put in the chopped preserved lemon and caster sugar, stir well and cook for 6–8 minutes until thickened. Take the pan off the heat and set aside.
Heat a saucepan over a medium-high heat and pour in the oil to a depth of 7cm.
Carefully dredge the cubes of feta in flour and dust off any excess flour.
In a measuring jug, whisk together the egg and the 100ml of cold water, then add the self-raising flour and mix very lightly. Avoid overmixing to whisk out lumps – it is the lumps that will keep the batter light.
I find it easier to batter the feta on the end of a skewer. Insert a skewer gently into the centre of each feta cube, dip the cube into the batter to coat it well, then slide the cube off the skewer into the hot oil and fry until the feta cube is golden brown on all sides. Immediately follow with as many other cubes as you can fit into the saucepan without overcrowding it. When cooked, drain on a plate lined with kitchen paper.
Spoon the preserved lemon jam into a suitable dish and serve alongside the feta, with a pile of cocktail sticks so that people can skewer and dunk the feta into the jam.
Other recipes you might like