Print me
Introduction
Kofta - meat patties - are something of an obsession throughout the Middle East. These meat patties can be baked, fried, grilled, braised; stuffed into pita and drizzled with tahini; or baked in a tomato sauce and served with rice. This version, baked with tomato, is a simple meal, to comfort - perfect for a midweek supper served with some bread or rice to mop up the juices - rather than to wow with its elegant looks.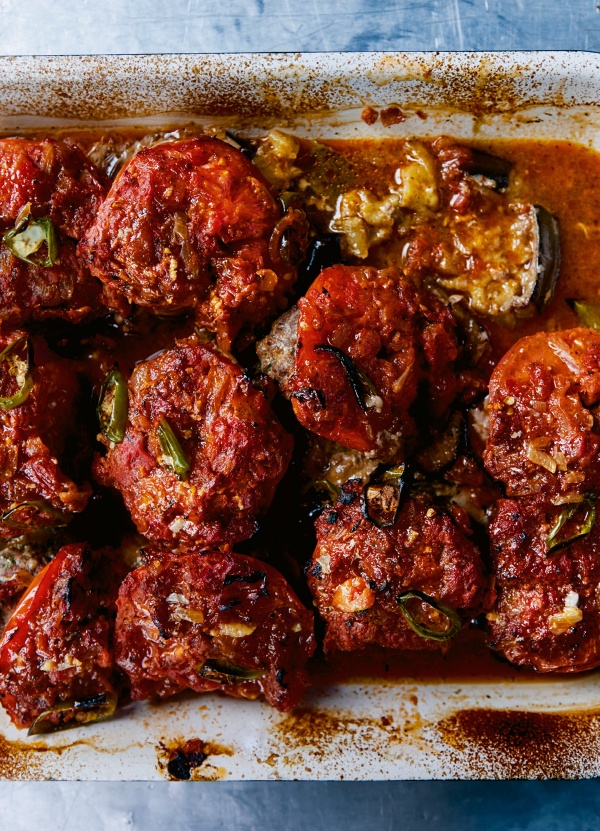 Ingredients
Makes: 12 kofta, to serve 6 as a main, or more as a side
2 very large or 3 large aubergines (850g) - as wide as possible, peeled in alternative long strips, to look like a zebra, then cut widthwise into 12 slices, about 2½cm thick
60 millilitres olive oil
3 large beef tomatoes (500g) - cut widthways into 12 slices, about 1cm thick
1 large green chilli (20g) - thinly sliced
salt
black pepper
For the tomato sauce:
2 tablespoons olive oil
1 onion (150g) - finely chopped
6 cloves garlic - crushed
2 teaspoons tomato puree
1 x 400g tin chopped tomatoes
¼ teaspoon caster sugar
1 teaspoon dried mint
½ teaspoon Aleppo pepper flakes (or ¼ teaspoon regular chilli flakes)
For the kofta:
350 grams minced beef (15-20% fat)
350 grams minced lamb (15-20% fat)
30 grams fresh flatleaf parsley - very finely chopped
1 onion (120g) - coarsely grated
2 cloves garlic - crushed
3 - 4 plum tomatoes (200g) - coarsely grated and skins discarded
1 teaspoon tomato puree
2 teaspoons ground cinnamon
1 tablespoon ground allspice
¼ teaspoon grated nutmeg
½ teaspoon Aleppo pepper flakes (or ¼ teaspoon regular chilli flakes)
1 tablespoon olive oil
To garnish:
5 grams fresh coriander leaves - roughly chopped
12 small picked basil leaves
25 grams pinenuts - toasted
Please note that nigella.com is not able to accept responsibility for any substitutions that Ocado may need to make as a result of stock availability or otherwise. For any queries, head to ocado.com/customercare.
Feel free to use the "swap" feature and adjust brands and quantities as needed.
Method
Baked Kofta with Aubergine and Tomato is a guest recipe by Sami Tamimi and Tara Wigley so we are not able to answer questions regarding this recipe
Preheat the oven to 220°C fan.
Place the aubergine slices in a large bowl. Sprinkle with ½ teaspoon of salt and a good grind of black pepper and pour over the oil. Mix well to combine, then spread out on a large parchment-lined baking tray. Bake for 25 minutes, or until golden brown and cooked through. Remove from the oven and set aside.
Reduce the oven temperature to 200°C fan.
While the aubergines are roasting, make the tomato sauce. Put the oil into a medium saucepan and place on a medium-high heat. Add the onions and cook for about 6 minutes, stirring occasionally, until they have softened and lightly browned. Add the garlic and tomato pur.e and cook for another 30 seconds. Stir in the tinned tomatoes, sugar, mint, chilli flakes, 60ml of water, ½ teaspoon of salt and a good grind of black pepper. Bring to the boil, then turn the heat to medium-low. Cook for 20 minutes, stirring occasionally, until the sauce is thick and rich. Remove from the heat and set aside until ready to use.
Put all the ingredients for the kofta into a large bowl, along with 1¾ teaspoons of salt and a good grind of black pepper. Mix well, then divide the mixture into 12 large balls. Shape into burger-shaped patties – about 7cm wide – and set aside.
Arrange the slices of aubergine in a single layer in the bottom of a large, deep baking dish, about 20 x 30cm. Place one patty on top of each slice and place a slice of tomato on top of this, to create a kind of sandwich. Spoon a generous tablespoon of the thick tomato sauce on top of each sandwich, spreading it out slightly so that it drizzles down the sides. Sprinkle over the green chilli, cover the dish tightly with foil and bake for 20 minutes. Then increase the oven temperature to 230°C fan, remove the foil and bake for a final 18 minutes.
Remove from the oven and, using a spatula, lift the kofta out of the liquid (don't discard the liquid, though), trying to keep the aubergine slices intact. Place on a large platter or individual serving plates, then pour the cooking juices from the pan into a medium saute pan. Bring to the boil on a high heat and cook for 7 minutes, stirring frequently, until the liquid has thickened and reduced by half. Spoon the sauce over the kofta and sprinkle with the coriander, basil and pinenuts. Serve warm or at room temperature.
Additional Information
MAKE AHEAD NOTE:
The tomato sauce (which can be easily doubled or tripled, if you want to freeze a batch) keeps well in the fridge for up to four days. The meat mix can also be made a day ahead, kept in the fridge and waiting to be cooked. Once baked, these are also lovely (or even better, as is often the case with meatballs) the next day. Either warm them through or just bring back to room temperature.
Other recipes you might like