Print me
Introduction
In this humble pasta sauce, an extended sauna in olive oil and garlic transforms cauliflower from crisp and peppery to soft and sweet. If the cauliflower you bought is substantially larger than 1 pound, lop off a piece first so the ratio of vegetable to noodle isn't out of whack.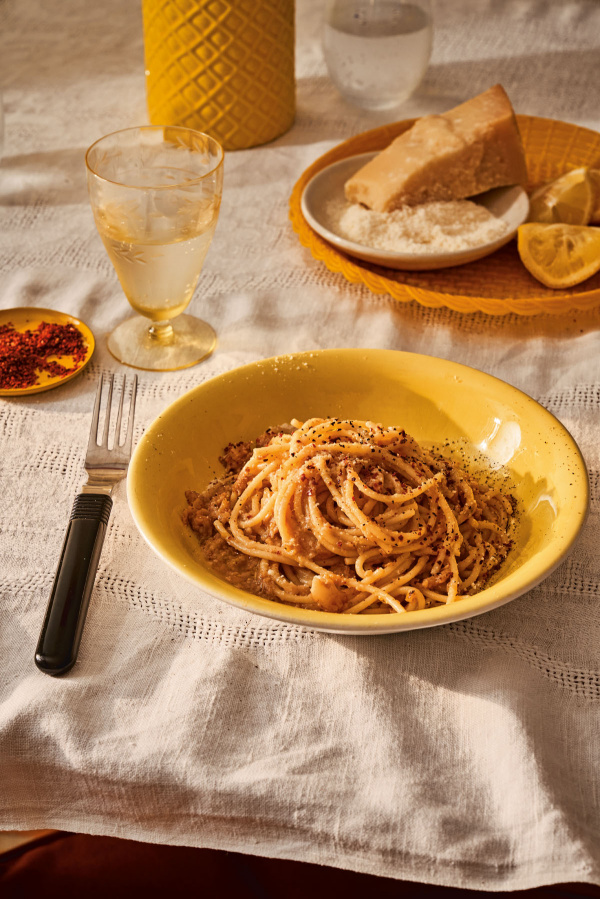 1 small head cauliflower (about 1 pound)
1 large shallot
6 garlic cloves
½ cup extra virgin olive oil (plus more for drizzling)
kosher salt
freshly ground pepper
4 anchovy fillets packed in oil (drained)
1 teaspoon mild chilli flakes (such as Aleppo pepper)
1 pound spaghetti
½ cup grated parmigiano cheese (plus more for serving)
1 lemon
Method
Spaghetti with Melted Cauliflower Sauce is a guest recipe by Carla Lalli Music so we are not able to answer questions regarding this recipe
Trim the base of the cauliflower but don't core it. Snap off the outermost leaves from the base, leaving the pale green inner ones. Roughly chop the cauliflower. Transfer cauliflower to a food processor and pulse into pieces no bigger than ½ inch (some bits will be smaller). Finely chop the shallot. Thinly slice the garlic.
Heat oil in a medium Dutch oven or other heavy-bottomed pot with a lid over medium. Add the shallot and garlic and season with salt and pepper. Cook until the garlic is translucent, about 2 minutes. Add the anchovies and cook, stirring, until they disintegrate, 1 minute more. Add the cauliflower and season with the chilli flakes plus more salt and pepper. Cook, stirring, until the cauliflower is coated in oil and starting to sweat, 5 to 7 minutes. Reduce the heat to very low, cover the pot, and cook, stirring occasionally, until the cauliflower is lightly browned and essentially rendered to very tasty mush, 30 to 35 minutes.
Meanwhile, bring a large pot of salted water to a boil over high heat. When cauliflower is almost done, cook the spaghetti, stirring occasionally, until very al dente, 3 to 4 minutes less than the time indicated on the package (it will finish cooking in the sauce). Using tongs or a mesh spider, transfer pasta to the pot with cauliflower sauce, along with about 1 cup pasta cooking liquid (or scoop out about 2 cups of the pasta liquid, then drain pasta in a colander). Bring sauce to a simmer over medium-high heat and cook, stirring and tossing pasta into sauce as you gradually add ½ cup Parm. Cook, tossing and adding more pasta liquid as needed, until the spaghetti is very al dente and sauce has thickened enough to generously coat the pasta, 3 to 4 minutes. Halve lemon and squeeze juice into pot and stir to combine. Serve pasta with more Parm at the table.
Other recipes you might like