Print me
Introduction
This is inspired by my friend Marianna Dushar's grandmother's cake recipe... with the addition of cardamom, which another friend Katrya Kaluzhna uses in her plum tart. The original recipe uses plums, but you can use most fruit here. I suddenly became allergic to stone fruit after my pregnancy with my first son, but after I had my second son nine years later, the allergy was gone... isn't that the strangest thing? So I now go to town and make up for the lost time. Whenever I can, I use all the stone fruit that I can get hold of, because I just love them all – apricots, plums, peaches, cherries – but you can pick any, or a mixture.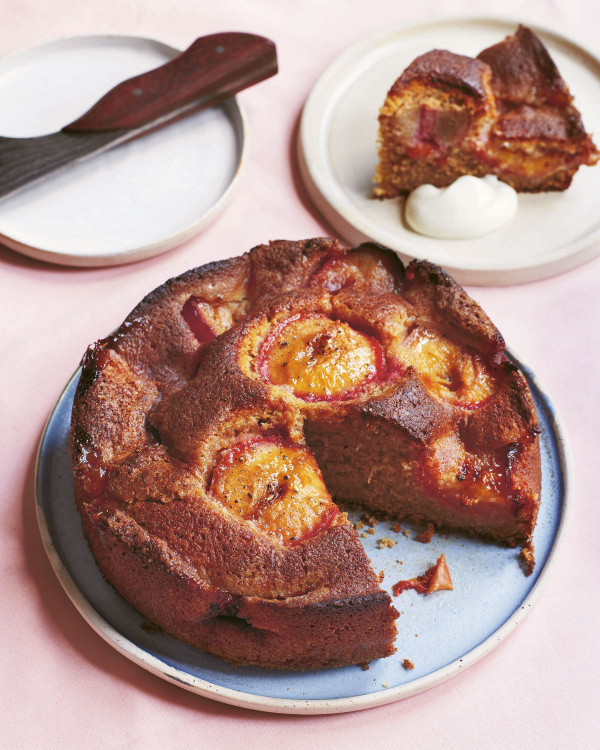 150 grams stone fruit (plums, apricots, cherries), or even sliced apples
100 millilitres flavourless oil plus more (optional) for the tin
20 grams unsalted butter for the tin (optional)
seeds from 4 cardamom pods
200 grams demerara sugar plus 1 tbsp
200 grams plain flour
2 scant teaspoons baking powder
2 eggs
150 millilitres kefir or ryazhanka (baked milk kefir)
1 teaspoon vanilla extract
sea salt
Please note that nigella.com is not able to accept responsibility for any substitutions that Ocado may need to make as a result of stock availability or otherwise. For any queries, head to ocado.com/customercare.
Feel free to use the "swap" feature and adjust brands and quantities as needed.
Method
Stefa's Stone Fruit Cake is a guest recipe by Olia Hercules so we are not able to answer questions regarding this recipe
If you are using stone fruit, cut the flesh in half along the seams, then twist and take out the stones. If your fruit is unripe, you may need to use a small knife to prise or cut the stone out; if that shreds one of the fruit halves into smaller pieces, it's not a big deal, you can still use them.
Preheat the oven to 180°C fan. Line a 20cm cake tin with a circle of baking parchment, then either lightly oil it or butter it heavily. The butter will add richness and flavour, so it really is up to you which one you pick.
Pound the cardamom seeds with the 1 tbsp of demerara until well ground. Sprinkle over the base of the prepared tin.
Mix the flour with the baking powder and sift them, if you have patience. Mix in 1 tsp salt.
Whisk the eggs in a mixer, then gradually add the 200g of demerara sugar and whisk until very pale and fluffy. Gradually add the kefir or ryazhanka, whisking on a slightly lower speed, then trickle in the 100ml of oil and add the vanilla. The mix might look grainy and split, but it will be all OK once you add the flour.
Fold in the flour and baking powder with a spatula, making sure there are no dry pockets of flour. Place the fruit into the batter, then scrape it into the sugared-and-cardamomed tin, smoothing it over on top.
Put it into the oven and cook for 45 minutes. Check by inserting a skewer, which should come out with no cake mixture stuck to it. But remember the fruit is wet, so it's OK for the skewer to come out moist. The cake will continue cooking for a bit when you take it out, so be careful not to dry it out.
Other recipes you might like