Print me
Introduction
The first bite of this banana pudding may well result in an exuberant 'aaah' moment, such is the beauty of the golden crumb of this magnificent cake. Soy sauce caramel soaks deep inside the banana sponge, adding moisture and soy's savoury complexity. It's a dessert worthy of a celebration, and lasts for several days in the fridge, magically reborn in just a few seconds in the microwave (or a few minutes in the oven, covered in foil).
Inspired by the sticky toffee puddings of the early 2000s, when they were hugely popular in the Australian dining scene, the magnificence of a soft and sticky sponge soaked in butterscotch has always stayed with me as the most comforting and perfect end to a meal.
Layered with unique flavours, each spoonful invites a new taste; on one chew it's the gooey ripeness of banana, on the next bite it's soy and buttery caramel, then it's the gentle warmth of ginger or the subtle hint of spice.
This works beautifully with vanilla ice cream, clotted cream or whipped cream.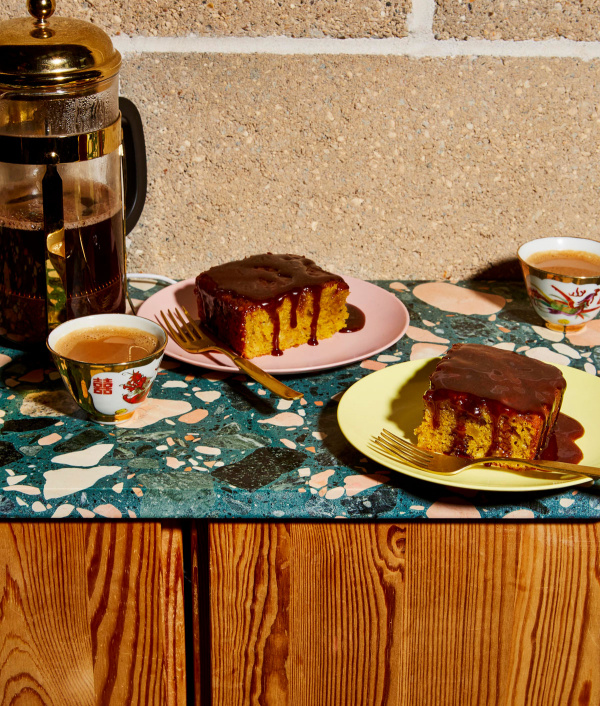 Ingredients
Serves: 10-12
150 grams caster sugar
50 grams coconut sugar or brown sugar
300 grams ripe bananas (2 medium) peeled and thoroughly mashed
125 millilitres flavourless oil, such as sunflower oil or grapeseed, plus extra for greasing
4 large eggs
pinch of fine sea salt
225 grams plain flour
1 teaspoon ground turmeric
1½ teaspoons ground ginger
3 teaspoons baking powder
1 x Soy Sauce Caramel (see below)
30 grams crystallised ginger or uncrystallised stem ginger, finely diced (optional)
ice cream or whipped cream or clotted cream, to serve
SOY SAUCE CARAMEL
80 grams unsalted butter (cubed)
100 grams soft dark brown sugar
60 millilitres double cream
3 teaspoons light soy sauce
1 teaspoon dark soy sauce
Please note that nigella.com is not able to accept responsibility for any substitutions that Ocado may need to make as a result of stock availability or otherwise. For any queries, head to ocado.com/customercare.
Feel free to use the "swap" feature and adjust brands and quantities as needed.
Method
Sticky Banana Toffee Pudding with Soy Caramel is a guest recipe by Lara Lee so we are not able to answer questions regarding this recipe
FOR THE STICKY BANANA TOFFEE PUDDING
Preheat the oven to 190°C/170°C fan. Lightly grease a 20 × 30cm traybake tin and line it with baking parchment, allowing some overhang on each side so that you can easily lift it out of the tin after cooking.
Put the sugars, mashed bananas, oil, eggs and salt in a large bowl and whisk them together with electric beaters for 2–3 minutes, or until thoroughly combined.
Sift in the flour, ground spices and baking powder and fold them into the mixture with a spatula until just combined. Pour into the prepared baking tin and bake for 25–30 minutes, or until the sponge is just firm and springy to the touch (a skewer should come out clean when inserted into the centre).
Make the Soy Sauce Caramel (see below) while the cake is baking. Set aside and keep warm.
When the sponge is cooked, make lots of holes in it with a thin skewer and slowly drizzle 120ml of the Soy Sauce Caramel over the top, ensuring the sponge is covered evenly in the sauce.
Sprinkle with the ginger, if using, and leave for 10 minutes to soak up the sauce. Carefully lift the cake out of the tin and cut it into squares. Serve warm with a scoop of ice cream or whipped cream and an extra drizzle of the remaining Soy Sauce Caramel.
FOR THE SOY SAUCE CARAMEL
Place all the ingredients in a saucepan and warm gently on a low heat. Stir the ingredients together once the butter has melted, and contiune to cook until the sugar has dissolved. Remove from the heat and transfer to a serving jug or store in an airtight container in the fridge.
Additional Information
I use a 20 x 30cm traybake tin. If yours is a different size, shorten or lengthen the cooking time slightly (longer for a smaller tin, shorter for a bigger one).
Prep & cooking time 45 minutes.
Other recipes you might like