Print me
Introduction
The idea for these is based on those wonderful Middle Eastern flatbreads served with a spiced lamb topping. When you think about it, what is haggis but spiced lamb? So I thought I would give these a try with Scotland's national dish - Scottish cousins to what you will find all over the Middle East. They are delicious served as a snack or as a light supper with salad.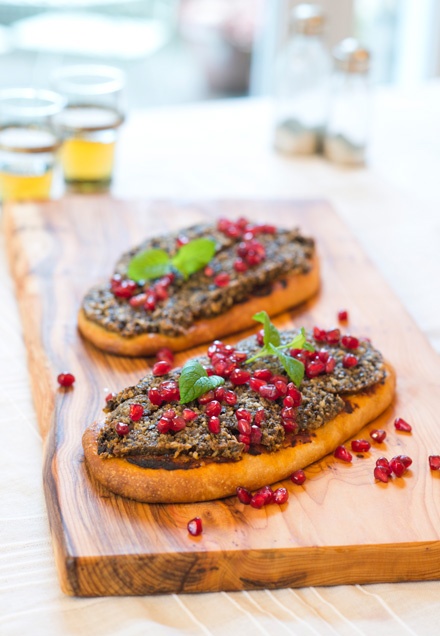 Flatbreads:
500 grams strong white flour
1 x 7 grams sachet of easy-blend yeast
1 tablespoon olive oil
Topping:
tomato puree
¾ butcher's haggis
olive oil
large handful mint (chopped)
large handful fresh parsley (chopped)
Method
Haggis Flatbreads is a guest recipe by Sue Lawrence so we are not able to answer questions regarding this recipe
For the flatbreads, place the flour and yeast in a bowl and stir in 1 tsp salt. Make a well in the middle and pour in the oil then 300-325ml/10-11 fl oz hand-hot (tepid) water, enough to combine to a dough. Using floured hands, bring the dough together then knead on a lightly floured board for 8-10 minutes until smooth and elastic.
Placed in a lightly oiled bowl, cover and leave for 1 1/2 hours somewhere vaguely warm until risen. Punch down then divide into 6. Roll out, with a rolling pin, to flat pitta bread shapes-elongated ovals. Place on two to three oiled baking sheets, loosely cover with oiled clingfilm and leave again somewhere vaguely warm for about half an hour or until puffed up a little. Then smear about one teaspoon tomato puree over each.
Chop the haggis up and crumble over each bread, taking right out to the edges. Drizzle with olive oil and bake in a preheated oven (220℃/425°F/Gas mark 7) for about 20 minutes or until puffed up and golden.
Remove and scatter chopped mint/parsley over each one, drizzle with oil and serve at once.
Other recipes you might like