Print me
Introduction
The best breakfast, a healthy yet hearty replacement for the full English. We serve it in huge pans from my festival cafe, with hundreds of eggs poaching in the rich tomato sauce.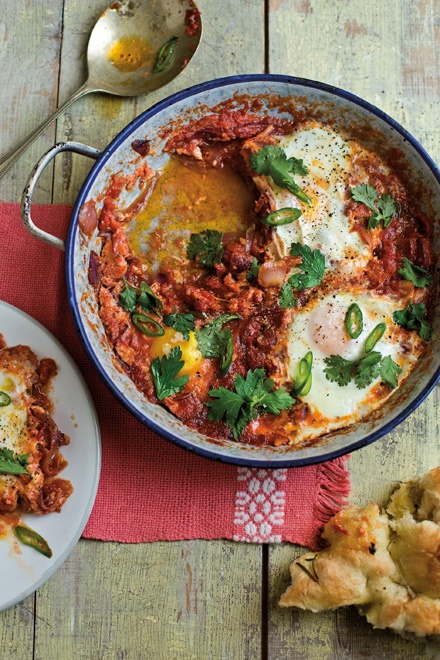 For the Shakshuka:
300 grams tomato passata (see below)
1 red onion (thinly sliced)
½ teaspoon ground cumin
1 teaspoon sweet paprika
splash of light olive oil
1 mild green chilli (sliced on the diagonal - optional)
2 cloves garlic (roughly chopped)
4 eggs
3 sprigs fresh parsley or coriander (roughly chopped)
For the Passata:
600 grams ripe tomatoes
2 basil leaves
Please note that nigella.com is not able to accept responsibility for any substitutions that Ocado may need to make as a result of stock availability or otherwise. For any queries, head to ocado.com/customercare.
Feel free to use the "swap" feature and adjust brands and quantities as needed.
Method
Shakshuka is a guest recipe by Tom Hunt so we are not able to answer questions regarding this recipe
For the passata:
Wash the tomatoes, then blend them to a fine pulp. Gently simmer them in a wide saucepan for 15-30 minutes, until they have reduced to a thick sauce. Taste them as they reduce, decide when you have reached your desired consistency and flavour, then stop cooking.
For the Shakshuka:
Gently fry the onion with the cumin and paprika in the light olive oil, adding a pinch of salt and half the chilli, if using, for 10 minutes, until soft. Add the garlic and fry for a further five minutes.
Add the passata and simmer for 10 minutes. If the sauce becomes too dry, add a little water.
When you're ready to eat, make four hollows in the sauce and crack in the eggs. Cover with a lid and simmer for five minutes for soft yolks and 10 minutes for hard-cooked eggs. Serve, sprinkled with the herbs and a little pepper, on your favourite toast, or with bread. Sprinkle with the rest of the chilli, if you like.
Other recipes you might like
American Breakfast Pancakes