Print me
Introduction
Damn, this is a fine Yule log, the sharpness of the sour cherries cutting through any chocolate excess. A subtle hint of kirsch works wonders too. It looks lovely plain, but feel free to add your own Christmassy decoration.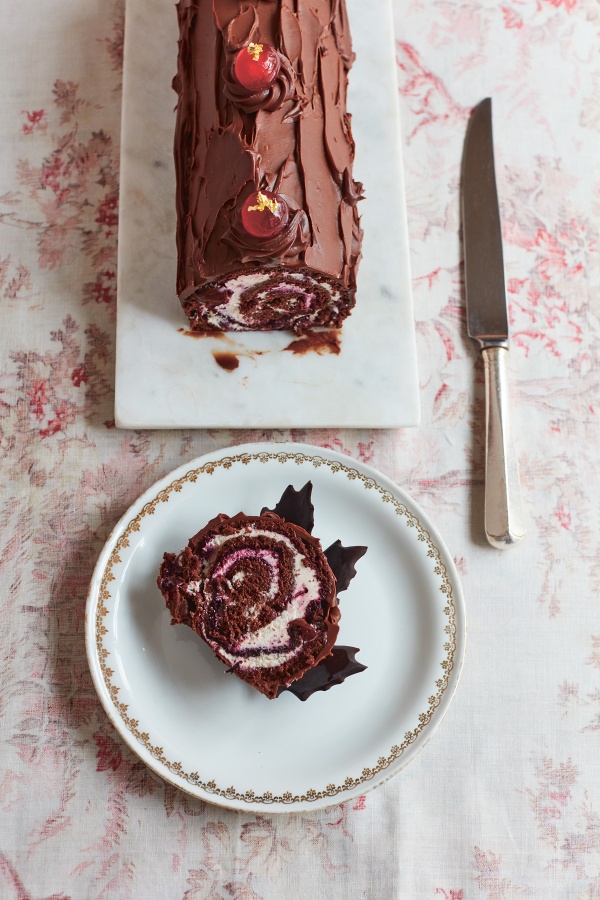 Ingredients
Serves: 10-12
80 grams self-raising flour
20 grams cocoa powder
4 large eggs
100 grams caster sugar
1 teaspoon vanilla extract
icing sugar (for dusting)
For the filling
2 tablespoons kirsch
140 grams bottled cherries - preferably griottine (chopped)
300 millilitres double cream
1 vanilla pod (slit open lengthwise)
1 tablespoon caster sugar
For the chocolate ganache
200 millilitres double cream
40 grams liquid glucose
160 grams dark chocolate - 55% cocoa solids (chopped)
Method
Black Forest Log is a guest recipe by Tom Parker Bowles so we are not able to answer questions regarding this recipe
Line a 30cm x 40cm Swiss roll tin with baking parchment. Sift the flour and cocoa powder into a bowl and set aside. Put the eggs, sugar and vanilla into a large bowl and place it over a pan of gently simmering water, making sure the water doesn't touch the base of the bowl. Using a hand-held electric beater, whisk the mixture for at least 5 minutes, until it is pale and has greatly increased in volume; it should be thick enough to stand up in soft peaks.
Remove the bowl from the pan of hot water and sift in the flour mixture in four or five additions, folding in each one with a large metal spoon. Try to lose as little air from the mixture as possible. Pour it into the prepared tin, spread it out gently with the back of the spoon and bake in an oven heated to 180°C/Gas Mark 4 for 10 minutes, until a skewer inserted in the centre comes out clean. Cover with a damp tea towel and leave to cool.
To make the filling, mix 1 tablespoon of the kirsch with the chopped cherries and set aside. Pour the cream into a large bowl, scrape in the seeds from the vanilla pod, then add the sugar and the remaining kirsch and whisk until fairly stiff.
Turn the chocolate sponge out on to a sheet of baking parchment dusted with icing sugar and peel off the lining paper. Spread the whipped cream over the sponge and sprinkle with the cherries. Roll the sponge up into a log, using the paper underneath to help you shape it. Wrap with cling film and leave in the fridge to set for about an hour.
For the ganache, bring the double cream and liquid glucose to a simmer in a small pan. Put the chocolate into a bowl and pour over the hot cream. Gently stir until smooth. Leave to cool, then stir briskly until it thickens enough to spread. Spread the ganache all over the chocolate with a palette knife. Chill until ready to serve.
Other recipes you might like