Print me
Introduction
Pancakes for breakfast are a real treat. I have a bit of an obsession with rye, not only for health reasons but also because I really like the flavour, and it just adds something to so many things. I didn't grow up with American pancakes (they were something you saw in the movies), and never had pancakes in the morning - they were a treat or even dinner. I started making this recipe in the early 1990s when I was living in Washington D.C. and I was very influenced by American cooking.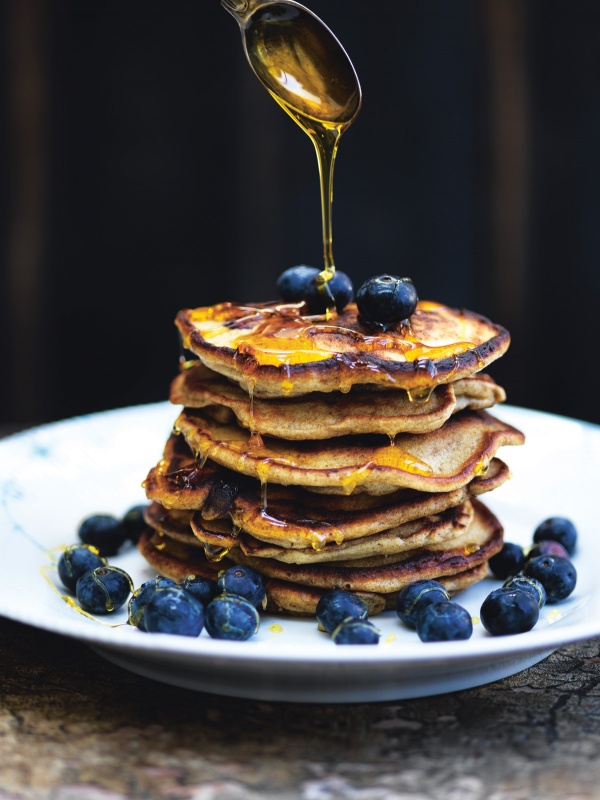 Ingredients
Makes: about 14
3 eggs
350 millilitres buttermilk
100 millilitres single cream
1 vanilla pod
150 grams wholegrain stoneground rye flour
150 grams plain flour
2 tablespoons sugar
1 teaspoon baking powder
½ teaspoon bicarbonate of soda
1½ teaspoons coarse salt
300 grams fresh blueberries
About 75 grams butter (for frying)
golden syrup (to serve)
Please note that nigella.com is not able to accept responsibility for any substitutions that Ocado may need to make as a result of stock availability or otherwise. For any queries, head to ocado.com/customercare.
Feel free to use the "swap" feature and adjust brands and quantities as needed.
Method
Rye Pancakes With Blueberries and Golden Syrup is a guest recipe by Trine Hahnemann so we are not able to answer questions regarding this recipe
Beat the eggs in a large mixing bowl. Add the buttermilk and cream and beat again. Split the vanilla pod (bean) in half lengthways and scrape out the seeds using the tip of a knife. Mix the vanilla seeds, both flours, sugar, baking powder, bicarbonate of soda (bicarbonate of soda) and salt together in a bowl, then fold into the egg mixture and beat again to a smooth, thick paste. Stir in two-thirds of the blueberries.
Melt a little of the butter in a frying pan and spoon 3 round pancakes into the pan, about 10cm/4in in diameter. Fry until golden underneath, then gently turn them over and cook until nicely browned on both sides. Repeat with the remaining batter, adding butter to the pan with each batch and keeping the cooked pancakes warm under a tea towel while you make the rest.
Serve right away, with the remaining blueberries and drizzled with syrup.
Other recipes you might like