Print me
Introduction
This recipe uses a wonderful mix of middle eastern and Indian spices. The dish can be served as stand-alone stew or paired with grilled or pan-fried salmon. The somewhat unusual combination of lentils and salmon provides for an effective dinner party main course. Like most legumes, lentils are best the second day after cooking, so prepare a day in advance.
375 millilitres red lentils
1 medium yellow onion
5 cloves garlic
1 teaspoon fennel seeds
1 teaspoon curry powder
½ teaspoon cumin seeds
¼ teaspoon caraway seeds
¼ teaspoon ground coriander
¼ teaspoon ground cloves
¼ teaspoon ground cardamom (or 2 pods)
½ teaspoon dried thyme
5⅛ centimetres cinnamon sticks
1 orange zest
1 can diced tomatoes
63 millilitres white wine
500 millilitres chicken broth (or vegetable stock or water)
1 tablespoon olive oil
1 bunch fresh parsley
Method
Curried Lentils is a community recipe submitted by bbalkansky and has not been tested by Nigella.com so we are not able to answer questions regarding this recipe.
First soak the lentils in cold water for a few hour - up to half a day. You can cook the lentils unsoaked but that will increase the cooking time.
Chop the yellow onion in small dice.
Heat the olive oil in a pot and add the onion and whole peeled garlic cloves. Saute for a minute, and then add all spices - fennel seed, curry powder, cumin seed, caraway seed, coriander, cloves, cardamom, cinnamon, thyme as well as the orange zest. Continue to sauté for another couple of min until the spices become fragrant.
Add the diced tomatoes from the can, continue to sauté for a min.
Then add the white wine, bring to a boil.
Add the lentils, and enough chicken broth or water to cover. Bring to a simmer and cook until the lentils are done, stirring every 10 min or so. If the liquid evaporates, add more stock or water.
When the lentils are done, add about 1/2 tbsp salt, and the chopped parsley.
This dish is best the second day, so ideally prepare a day in advance of serving. If serving with grilled salmon, place the fish on top of a bed of lentils when serving.
Other recipes you might like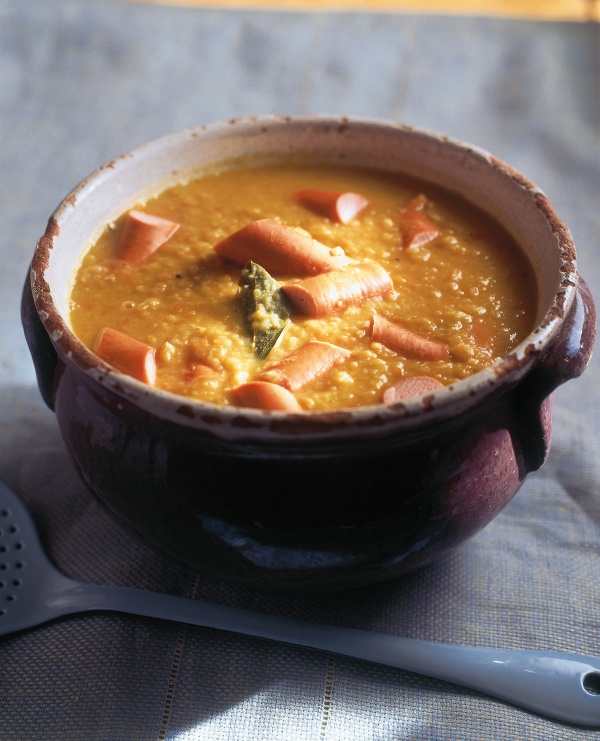 Yellow Split Pea and Frankfurter Soup