Print me
Introduction
This creamy and rich salad layered in wonderful colors is a favorite on all occasions. It is very easy to make and takes little time. Recommend making it in a glass bowl, for it's a pity not to see all the colors.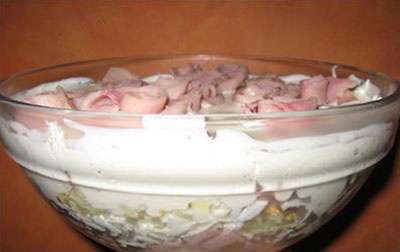 4 medium potatoes
4 hard-boiled eggs (cooled)
400 grams ham (thin slices)
400 grams feta cheese
400 grams mayonnaise
400 grams sour cream
1 tablespoon lemon juice
Please note that nigella.com is not able to accept responsibility for any substitutions that Ocado may need to make as a result of stock availability or otherwise. For any queries, head to ocado.com/customercare.
Feel free to use the "swap" feature and adjust brands and quantities as needed.
Method
Winter Salad is a community recipe submitted by belgrade and has not been tested by Nigella.com so we are not able to answer questions regarding this recipe.
Boil potatoes in skin, let cool and peel.
Slice ham into 1cm wide strips 2 cm long.
In a glass bowl (effect of layers comes through) shred 2 potatoes to cover evenly the bottom (large holes).
Over the potatoes shred 2 eggs. Put 200g of ham over this.
Over the ham shred 200g of feta.
Repeat...potatoes..eggs..ham..feta.
Mix together mayo, sour cream and lemon juice, and pour over the top.
Refrigerate for 1 hour at least.
Additional Information
For decoration I use long strips of ham and make roses, or shred a bit of feta or boiled egg yolk. Can make 1/2 serving.
Other recipes you might like