More recipes
Recipe search
Chocolate Cherry Amaretto Cupcakes
A community recipe by

FarranWincott

Not tested or verified by Nigella.com
Print me
Introduction
Rich and chocolatey cupcakes with a delicious amaretto soak all topped with almond whipped buttercream and delicious European Picota cherries, these Chocolate Cherry Amaretto Cupcakes are simple, vegan and can easily be made gluten-free.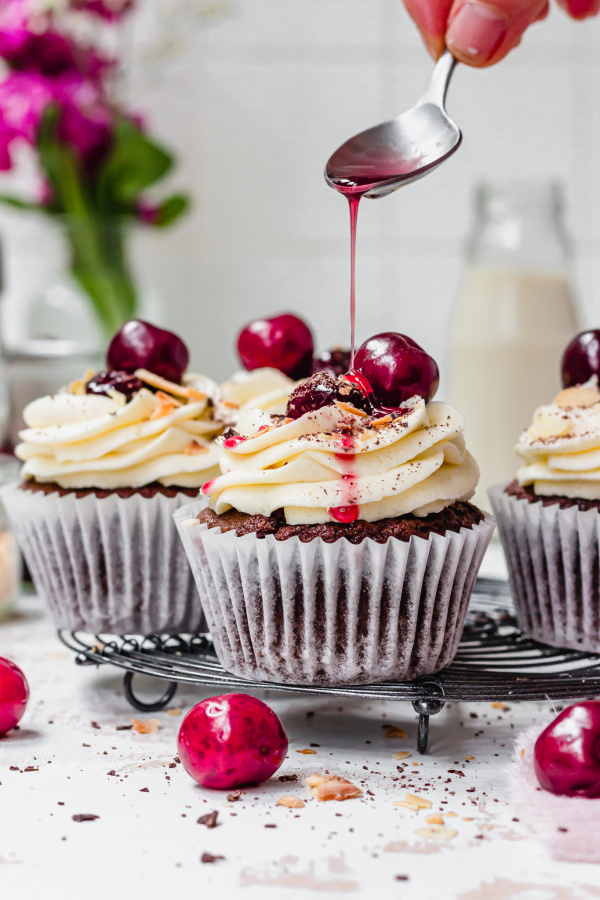 Cupcakes
240 millilitres almond milk
1 heaped tablespoon lemon juice
140 grams caster sugar
80 millilitres sunflower oil
½ teaspoon vanilla essence
½ teaspoon almond essence
170 grams self-raising flour (alternatively, use gluten-free self-raising flour)
40 grams cocoa powder
1 teaspoon coffee (optional)
½ teaspoon bicarbonate of soda
pinch of salt
1 heaped tablespoon Amaretto liqueur (optional)
Filling
200 grams cherries (be sure to use European Picota cherries)
1 heaped tablespoon maple syrup
1 teaspoon vanilla essence
1 teaspoon Amaretto liqueur
Frosting
120 grams vegan butter (softened)
½ teaspoon vanilla essence
¼ teaspoon almond essence
350 grams icing sugar
2 heaped tablespoons almond milk
Topping
10 cherries (be sure to use European Picota cherries)
chocolate shavings
Please note that nigella.com is not able to accept responsibility for any substitutions that Ocado may need to make as a result of stock availability or otherwise. For any queries, head to ocado.com/customercare.
Feel free to use the "swap" feature and adjust brands and quantities as needed.
Method
Chocolate Cherry Amaretto Cupcakes is a community recipe submitted by FarranWincott and has not been tested by Nigella.com so we are not able to answer questions regarding this recipe.
Preheat the oven to 160℃ Fan/180℃ and line a muffin/cupcake tray with 10 cases.
To a large mixing bowl, add the milk, lemon juice, sugar, sunflower oil, vanilla essence and almond essence. Whisk till smooth.
Now sift in the flour, cocoa powder, coffee and bicarbonate of soda. Whisk to a smooth batter with no specks of flour.
Scoop the batter into the cases, filling 2/3 full. Bake in the centre of the oven for 18-20 minutes, until risen and springy and an inserted skewer comes out clean.
Remove immediately from the tray and sit on a wire rack. Brush with the amaretto, if using, and allow to cool fully.
Meanwhile, make the filling: add the Picota Cherries to a saucepan with the rest of the ingredients and bring to a bubble. Allow to bubble away over a high heat for 8 minutes, until sticky and there's a thick syrup. Pour into a bowl and cool fully (you can place them in the fridge, too).
When ready, prepare the buttercream: add the softened butter to a bowl or freestanding mixer and beat till smooth. Gradually beat in the vanilla essence, almond essence, icing sugar and plant-based milk till fully incorporated then beat for a further 1-2 minutes till really fluffy. Place in a piping bag with a star-shaped nozzle.
Core the centre of the cupcakes and fill with the Picota cherry compote filling. Pipe on the buttercream and top each cupcake with some extra compote and the juice, a whole Picota cherry, some chocolate and toasted almonds/coconut.
Enjoy straight away or keep in the fridge for 2-3 days. Best eaten at room temperature and you can freeze the unfrosted and unfilled cupcakes for 1 month. The compote will keep for 1 week in a sealed container in the fridge.
Other recipes you might like