Print me
Introduction
I love this recipe.When I come home from mass on a Sunday or I can make a batch on Sunday and have two or three before school.You don't have to let them set, JUST EAT!!!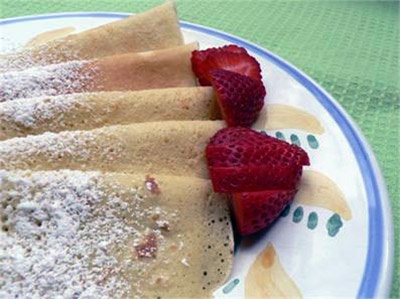 Ingredients
Serves: 10-12
6 ounces all-purpose flour
½ pint milk
2 eggs
1 tablespoon melted butter
Method
Shrove Tuesday Pancakes is a community recipe submitted by ClairBear and has not been tested by Nigella.com so we are not able to answer questions regarding this recipe.
Sift the flour into a bowl. Make a well in the bowl and whisk the eggs.(Dont add the flour gradually,if you want, half beat the eggs in a seperate bowl).
Now whilst adding the milk graduallyslowly bring in some flour until everythink has been mixed up.(If its slightly lumpy and it wont smoothen up po you thats ok!).
Add the melted butter when your making the pancakes. Rub melted butter all around the frying pan and get cooking!!!
You can putcaster sugar+lemon juice,syrp,honey anything on these pancakes.
Other recipes you might like