More recipes
Recipe search
Colorful Vegetable Noodles
A community recipe by

Cri-craving

Not tested or verified by Nigella.com
Print me
Introduction
This is an easy recipe I often do when I want to get more vegetables in my day without having a boring plate. The amount of spices can be changed depending on your love for spicy food. If you don't have a spiralizer for the vegetables, arm yourselves with patience, a knife and eventually a potato peeler. Hope you enjoy this healthy and tasty recipe.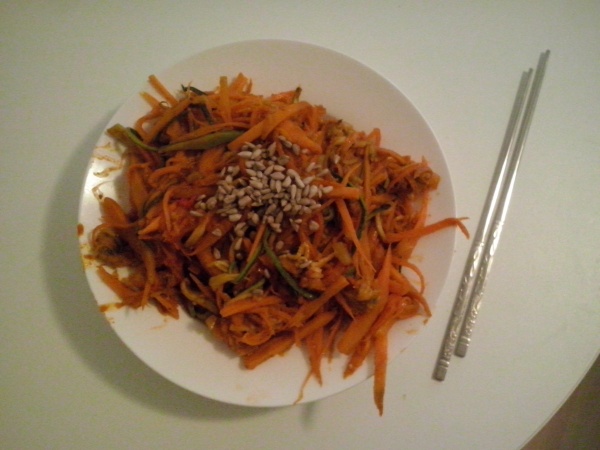 1 clove garlic
1 onion
1 courgette (sliced thinly)
1 carrot (sliced thinly)
1 sweet potato (sliced thinly)
1 handful sunflower seeds
1 pinch of salt
curry powder (to taste)
chilli (to taste)
Method
Colorful Vegetable Noodles is a community recipe submitted by Cri-craving and has not been tested by Nigella.com so we are not able to answer questions regarding this recipe.
Cut the garlic and onion and put it in a pan with a tablespoon of olive oil.
Add the courgette, carrot and sweet potato noodles when the garlic and onion turn gold.
Keep stirring and add salt, curry and chili as much as you want.
Mix until the vegetables start to become more soft, with a consistency similar to noodles or spaghetti. It will take a few minutes.
Put it in a pan and add the sunflower seeds.
Other recipes you might like