Print me
Introduction
I wanted to make something different with Guinness rather than cooking with steak. I thought of stews and how easy they are and this takes time to prepare but tastes really good. It takes about an hour to prepare and uses a slow cooker but you can make it in a pot and cook over a shorter time. I used 2 litres in my slow cooker but you'll want seconds.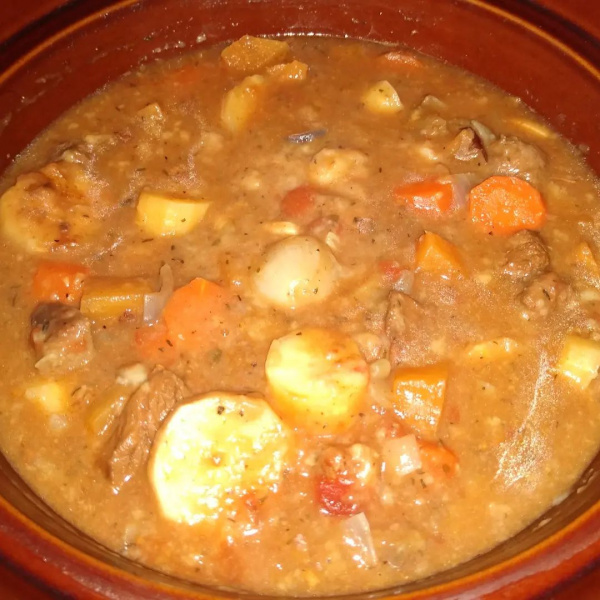 3 cloves garlic (chopped)
2 large red onions (diced)
3 parsnips (thinly sliced)
5 carrots (thinly sliced)
350 grams stewing steak (diced)
250 grams swede (diced)
2 teaspoons ground black pepper (coarse)
3 tablespoons plain flour (sieved)
2 tablespoons worcestershire sauce
1 tin tomatoes
440 millilitres Guinness original
500 millilitres stock
4 bay leaves
1 teaspoon thyme (dried)
1 teaspoon dried parsley
4 onions pickled
3 tablespoons olive oil
Please note that nigella.com is not able to accept responsibility for any substitutions that Ocado may need to make as a result of stock availability or otherwise. For any queries, head to ocado.com/customercare.
Feel free to use the "swap" feature and adjust brands and quantities as needed.
Method
Guinness Stew is a community recipe submitted by Brybaz and has not been tested by Nigella.com so we are not able to answer questions regarding this recipe.
Heat the oil and seal the Stewing Steak then add the garlic and onion.
Add Worcester sauce and then the Guinness. Then add the herbs.
Add the flour to thicken and stir well.
Add the stock, vegetables and tinned tomatoes and stir well.
Put into a slow cooker and add the bay leaf. (Add dumplings Optional.)
Cook for 6-8 hours (or longer up to 10 hours.)
Serve with mash potatoes or rice.
Additional Information
TIP
You can use Beef or lamb if you prefer but make sure they are diced in small pieces.
I used vegetable stock but any will do. I recommend Guinness dumplings but any flavoured dumplings will do. Cut the vegetables into thin slices in the slow cooker. You can also pre-cook them for 10 mins if you want them really soft.
Other recipes you might like