Print me
Introduction
A Pumpkin Crepe cake? That sounds crazy you might think, it was an idea inspired by one of my favourite chefs. . This simple no bake cake is fantastic especially served up with some fresh cream..sooo yum it will make you see pumpkin in a whole new light!
For the Crepes
4 eggs
500 millilitres skimmed milk
2 tablespoons confectioners' sugar
313 millilitres flour
2 teaspoons melted butter
1 teaspoon ground ginger
1 teaspoon vanilla essence
walnut (to decorate)
For the Pumpkin Filling
425 grams pumpkin puree (or 450g of pumpkin - cut, peeled and boiled so still soft enough to mash)
83 millilitres brown sugar
¼ teaspoon nutmeg
½ teaspoon cinnamon
83 millilitres skimmed milk
For the Chocolate Ganache
113 grams bittersweet chocolate
28 grams cold butter
52 millilitres cream
1 pinch of cornstarch
Method
Pumpkin Crepe Cake is a community recipe submitted by Konstant Kraver and has not been tested by Nigella.com so we are not able to answer questions regarding this recipe.
Whisk together eggs, milk, flour,confectioners' sugar, ginger,vanilla essence and butter. Refrigerate.

In a microwave-safe container, mix pumpkin, sugar, nutmeg, cinnamon and milk. Microwave for approximately 1 minute, until heated through, and stir.Set the pumpkin filling aside.

Coat a skillet or small saute pan with cooking spray, and place on a burner over medium heat. Pour about 1/4 cup of crepe batter into the pan, tilting to coat the pan's surface. Cook about 1 minute, flip, and cook for roughly another minute.

Remove crepe from pan, place on a serving plate. Repeat step 3 with the remaining batter, making roughly 18 crepes in total. Leave aside to cool for about 10 minutes.

Now ASSEMBLING IT-This has to be assembled on the platter it will be served on because once it is up you wont be able to shift it.
6.To start off, place about a 1Tbsp of the pumpkin filling on the center of the platter and smear it in a circle so the first crepe will be held in place.Place the crepe on top of the pumpkin filling then spread over another 1 or 2 Tbsp of the pumpkin over the crepe and spread it out and place the next crepe on top.Repeat until all are done.
Chop up the bittersweet chocolate and place it in a bowl with the butter and pop it over a pot of simmering water and gently melt the chocolate and butter,make sure the bowl is not touching the water.
8.Once that is done add the cream and a pinch of cornstarch.Stir it all together till you have a glossy thick ganache.
9.Pour over the chocolate ganache on top of the last crepe and spread all around making sure the top is covered nicely. Place walnuts on top
Leave to set for about 20 minutes , slice and serve with fresh cream
Other recipes you might like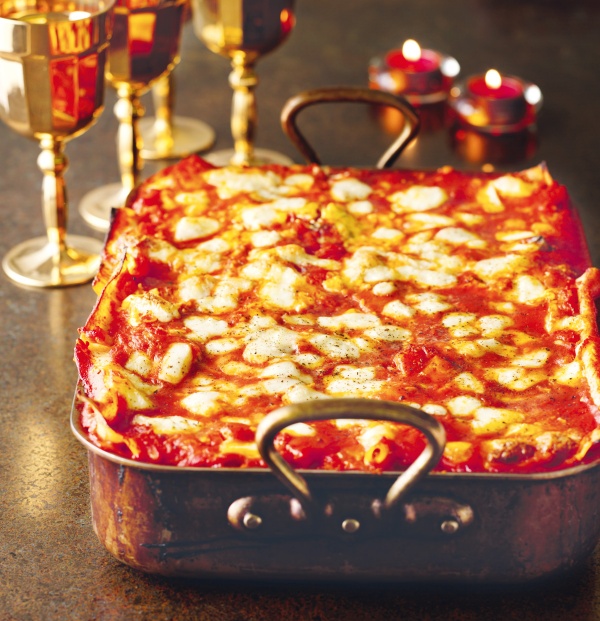 Pumpkin and Goat's Cheese Lasagne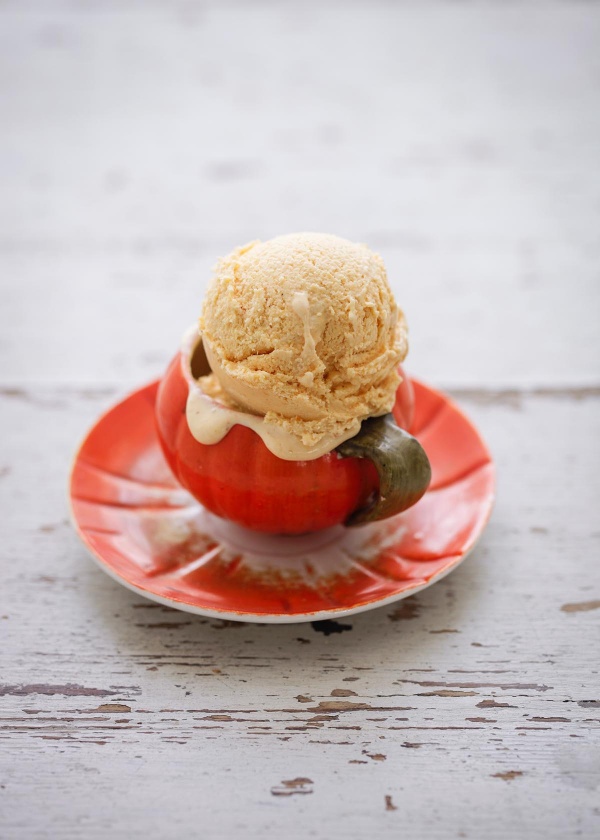 No-Churn Brandied Pumpkin Ice Cream