Print me
Introduction
This is a normal cookie dough, only with cardamom and honey.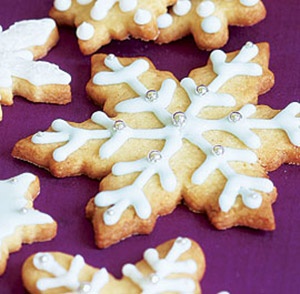 3 cups unbleached all-purpose flour
1 teaspoon ground cardamom
½ teaspoon salt
¼ teaspoon baking soda
1 cup butter (at room temperature)
¾ cup granulated sugar
¼ cup honey
1 large egg
1 teaspoon vanilla extract
Method
Honey - Cardamom Cookies is a community recipe submitted by Krakra58 and has not been tested by Nigella.com so we are not able to answer questions regarding this recipe.
Make dough as you are used to add the honey etc.
Divide the dough in two disc's, cool for 1 hour.
If you cut the cookies into larger of smaller shapes, you'll need to adjust the baking time. Just to be sure to bake until the edges turn light brown.
Bake one sheet at a time, 11-13 minutes, cool on sheet for 10 minutes, then fransfer to rack to cool completely. You can decorate them with Royal Icing...
Other recipes you might like