More recipes
Recipe search
Ash-E Reshteh (Thick Persian Legume Soup)
A community recipe by

leiladukes

Not tested or verified by Nigella.com
Print me
Introduction
This is a gorgeous, velvety and restorative soup that my grandmother used to make for me when I was little. The taste of this recipe brings back so many memories! Even if this soup hasn't been part of your childhood (and I wish that it could have been), you'll definitely enjoy it now, particularly on cold nights. This makes a lot but that's in the spirit of the recipe-- either freeze or keep it on the stove to be dished out when you need some tlc, and it improves over time anyway.
½ cup garbanzo beans
½ cup kidney beans
½ cup navy beans
½ cup lentils
1 bunch chopped fresh parsley
3 bunches chopped scallions (or scallions)
½ pound chopped fresh spinach
½ pound linguine (or Persian reshteh noodles if you can get them)
3 tablespoons butter
2 large sliced onions
1 tablespoon dried mint
1 cup plain yogurt (or kashk, or Persian whey if you can get it)
2 teaspoons turmeric
1 salt
1 freshly ground pepper
Method
Ash-E Reshteh (Thick Persian Legume Soup) is a community recipe submitted by leiladukes and has not been tested by Nigella.com so we are not able to answer questions regarding this recipe.
If using dried legumes, cook each one separately until tender and set aside before you proceed. (Using tinned ready-cooked is much easier!)
Combine parsley, scallions, turmeric, salt and pepper, and about 6 cups water in a large pot. Simmer for 20 mins.
Add the spinach and cook for a further 10 mins. Break up the noodles into strands of a couple of inches in length and add to ash mixture.
Let simmer until noodles are cooked.
Fry onions in butter until golden brown. Stir in the dried mint until fragrant.
Add cooked/ tinned legumes to ash, let simmer for 10-15 minutes. Taste for seasoning.
Place ash in a large serving bowl and decorate the top with some of the fried onions and mint mixture.
Drizzle some yoghurt or kashk on the top as well. Serve with extra yoghurt or kashk on the side. Enjoy!
Other recipes you might like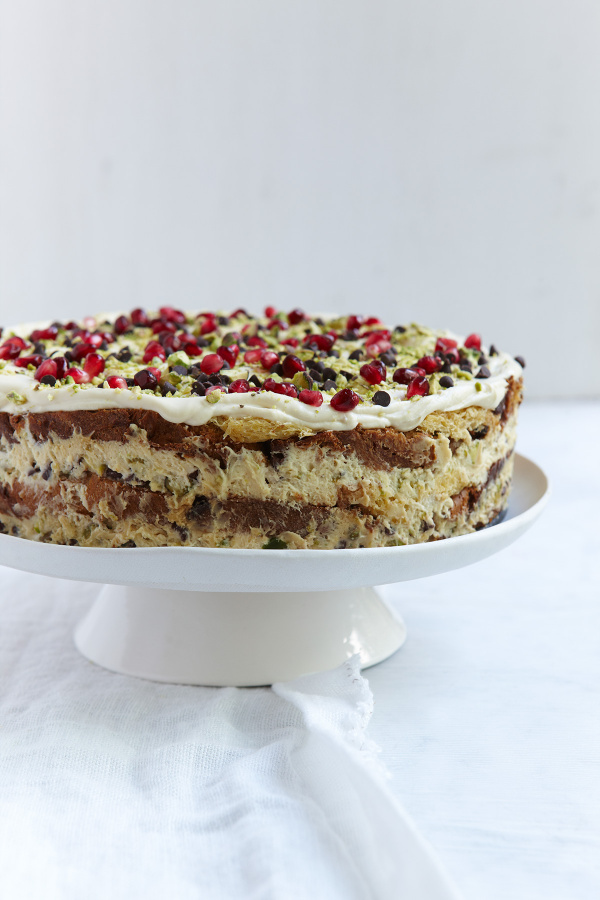 Italian Christmas Pudding Cake