Print me
Introduction
This creamy Queso Dip (Mexican cheese dip) is easy to make from scratch and a favourite every time! Serve with salty tortilla chips for the best SNACK ever!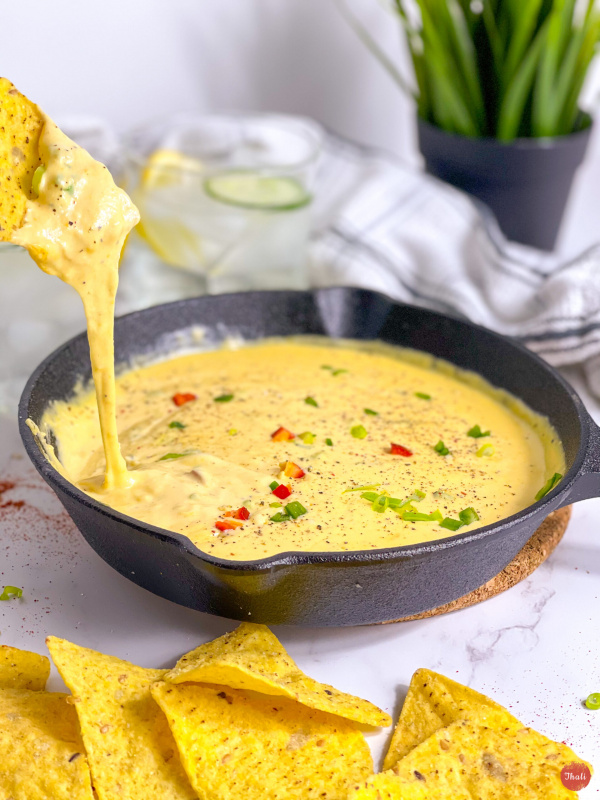 2 cups Cheddar cheese (grated and orange in colour)
1 cup heavy cream
1 teaspoon cayenne pepper
1 teaspoon ground turmeric
1 teaspoon pink Himalayan salt
1 teaspoon garlic powder
1 teaspoon onion powder
1 teaspoon black pepper
1 medium fresh red chile (chopped)
handful fresh chives (for garnish)
handful scallions (for garnish)
Method
Queso Dip is a community recipe submitted by neelam1 and has not been tested by Nigella.com so we are not able to answer questions regarding this recipe.
Add the cream and sharp cheddar into a medium saucepan and mix. The cheese will melt and combine with the cream. Keep stirring on low flame.
Slowly add all the seasoning and chilli (optional). Keep mixing until combined.
Enjoy with tortilla chips!
Other recipes you might like