Print me
Introduction
Classic turtle candy taste in a cake!
For the Cake
1 egg
165 millilitres vegetable oil
2195 millilitres buttermilk
250 millilitres flour
438 millilitres superfine sugar
125 millilitres unsweetened cocoa
1 teaspoon salt
1 tablespoon baking soda
250 millilitres hot coffee
For the Frosting
250 millilitres superfine sugar
83 millilitres milk
5 tablespoons butter
375 millilitres chocolate chips
125 millilitres caramel topping
250 millilitres toasted pecan nuts
Method
Cafe Latte Turtle Cake is a community recipe submitted by redheadev and has not been tested by Nigella.com so we are not able to answer questions regarding this recipe.
Preheat oven to 350 degrees F.
Grease a 9 by 13-inch pan. Combine egg, oil and buttermilk.
In a large bowl, combine flour, sugar, unsweetened cocoa, salt and baking soda.
Combine the egg mixture and the flour mixture, mixing well. Slowly mix in hot coffee.
Turn into prepared pan and bake 40 to 45 minutes. Frost when cooled. Frosting: Mix sugar and milk in a saucepan, add butter and bring to a boil.
Put chocolate chips in a bowl, pour hot mixture over them and mix until smooth Spread over cooled cake.
Drizzle caramel topping over the frosting and crunch toasted pecans over the caramel with your hand.
Additional Information
Prep time: 10 minutes Cook time: 40-45 minutes Total time: 1 hour
Other recipes you might like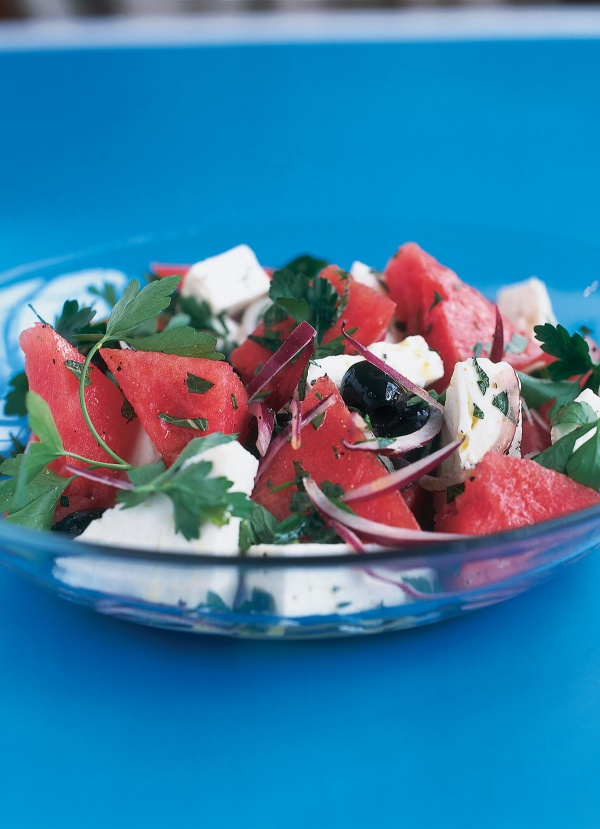 Watermelon, Feta and Black Olive Salad