More recipes
Recipe search
Pork Chops With Cranberry Sauce and Kumara Craisin Salad
A community recipe by

Shazza13

Not tested or verified by Nigella.com
Print me
Introduction
I've only ever made the salad and it's yummy. I also tweak it a little and add 2 TS (Tablespoons) Orange Juice and 2 TS Aged Balsamic Vinegar to the dressing.
1 tablespoon ground ginger
1 tablespoon ground coriander
1 teaspoon sweet paprika
125 millilitres cranberry sauce
2 tablespoons orange juice
2 tablespoons lemon juice
1 tablespoon dijon mustard
4 pork loin steaks
3 large sweet potatoes (diced into 2cm pieces)
2 tablespoons olive oil
125 millilitres toasted pinenuts
83 millilitres dried cranberries
250 millilitres coarsely chopped cilantro
63 millilitres white wine vinegar
2 teaspoons olive oil (extra)
Method
Pork Chops With Cranberry Sauce and Kumara Craisin Salad is a community recipe submitted by Shazza13 and has not been tested by Nigella.com so we are not able to answer questions regarding this recipe.
Combine ginger, coriander, paprika, sauce, juices and mustard in a large bowl, add pork; toss pork to coat in mixture.
Make Kumara Craisin salad.
Cook pork on heated oiled grill plate, uncovered, until cooked as desired.
Serve pork with salad.
KUMARA CRAISIN SALAD -
Boil, steam or microwave kumara until just tender; drain.
Combine kumara with oil in large bowl; cook kumara on heated oiled flat plate, uncovered, until lightly browned.
Return kumara to same bowl with remaining ingredients; toss gently to combine.
Other recipes you might like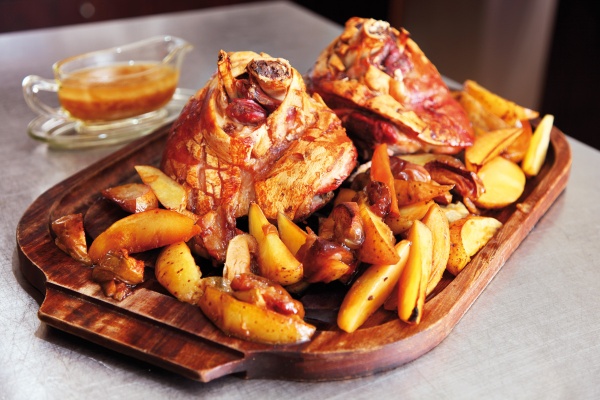 Beer-Braised Pork Knuckles With Caraway, Garlic, Apples and Potatoes