Print me
Introduction
If you love hearing the crunch while eating vegetables and if you love pasta, this one is for you. The tomato sauce base will make kids love it too... a big plus!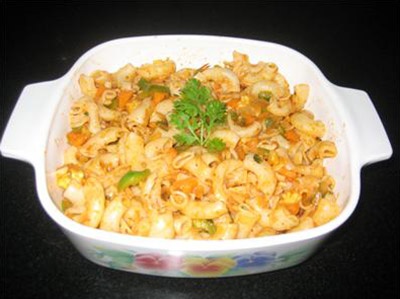 ¼ cup chopped onions
2 teaspoons chopped garlic
1 cup tomato puree
1 tablespoon tomato sauce
⅓ cup chopped carrots
1 teaspoon oregano
2 teaspoons freshly ground pepper
1 teaspoon sugar
salt (to taste)
3 tablespoons olive oil (2 tbsp + 1 tbsp)
1 cup water
2 tablespoons cilantro (or mint or parsley, finely chopped)
3 cups macaroni
⅓ cup chopped bell peppers
⅓ cup chopped baby sweetcorn
Method
Crunchy Veggie Macaroni is a community recipe submitted by Shubi and has not been tested by Nigella.com so we are not able to answer questions regarding this recipe.
Heat 2 tbsp of olive oil in a wok. Add onions, garlic and stir until the onions are soft. Add dried oregano and tomato sauce and stir for a minute.
Pour in the tomato puree and fry until the puree is cooked. Add the pepper, salt and sugar.
Add water and let the sauce simmer for 10 minutes on low heat.
Combine the chopped vegetables with 1 tbsp oil and put in a microwave-safe bowl. Cook in the microwave at high power for 1-2 minutes.
Add the macaroni and vegetables to the simmering tomato sauce and toss well.
Garnish with chopped coriander/mint/parsley.
Additional Information
Cooking the vegetables in the microwave helps them retain their color and texture rendering the boring white pasta into a colorful medley!
Other recipes you might like