Print me
Introduction
This is one of my favourite recipes as the ingredients are healthy but it tastes so creamy and therefore naughty!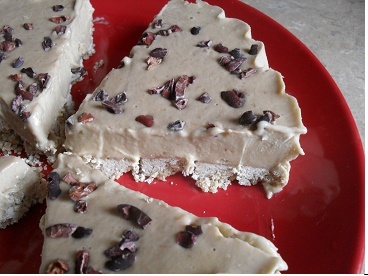 For the base
150 grams oats
2 heaped tablespoons coconut oil
2 tablespoons water
1 tablespoon maple syrup
For the filling
3 bananas
100 grams cashew butter
75 millilitres coconut cream
1 heaped tablespoon coconut oil (melted)
1 teaspoon vanilla powder
For the topping
cacao nibs or chopped chocolate
Please note that nigella.com is not able to accept responsibility for any substitutions that Ocado may need to make as a result of stock availability or otherwise. For any queries, head to ocado.com/customercare.
Feel free to use the "swap" feature and adjust brands and quantities as needed.
Method
Creamy Cashew Butter Banana Pie is a community recipe submitted by dontfrigwithmyfoodblog and has not been tested by Nigella.com so we are not able to answer questions regarding this recipe.
Preheat the oven to 150C.
Blend the oats in a food processor until they resemble a flour consistency.
Melt the coconut oil and mix it with the syrup and water. Pour it into the oats while the processor is on until it forms a dough ball in the machine. Then press the dough into a lined tin (4 inches across).
Bake for around 15 minutes or simply leave to set in the fridge for 2/3 hours.
Blend together all of the other ingredients except for the cacao nibs.
Pour this mix onto the base, top with the nibs (and nuts if you fancy it) then place into the freezer for 30-40 minutes then transfer to the fridge for another 30 minutes.
Place at room temperature for about 15 minutes before cutting and enjoying!
Other recipes you might like