Print me
Introduction
Fresh vine ripened tomato herb bruschetta over lightly salted homemade sourdough bread toasted with extra virgin olive oil , accompanied by ham and melon with a picante note added by the inclusion of jumbo pimento stuffed queen olives...lemon wedge as garnish.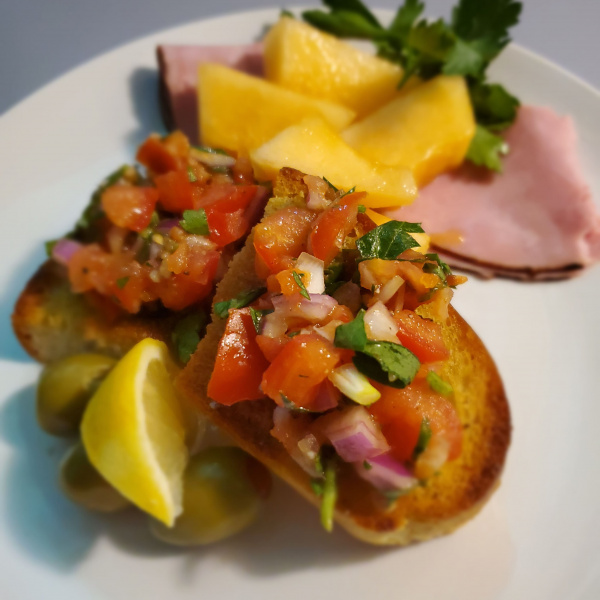 Herbed tomato topping:
5 cups tomatoes chopped
4 cloves garlic pressed
2 bulbs shallots chopped
1 bunch fresh parsley finely chopped
1 bunch fresh basil torn
1 cup extra virgin olive oil added to mixture
2 pinches of kosher salt added
2 pinches of cracked black pepper added
1 grating lemon zest added
1 juice of lemon added
1 pinch of red pepper flakes to taste
Seasoned Sourdough bread toast:
12 slices sourdough sliced/toasted @350F
12 splashes of extra virgin olive oil brushed on bread
12 pinches of kosher salt applied to bread
Accompaniment/ Sides for presentation:
12 slices prosciutto thinly sliced
3 cups melons cubed or wedged
24 stuffed green olives whole
12 slices lemons sliced or rounds
1 bunch fresh parsley torn for garnish
Method
Tomato Bruschetta is a community recipe submitted by bkweinroth and has not been tested by Nigella.com so we are not able to answer questions regarding this recipe.
For the tomato mixture : Combine all ingredients and combine. Let sit at room temperature initially for 30 minutes to marry flavors and ingredients.

For the sourdough toast : Brush all slices with extra virgin olive oil and a pinch of salt, evenly toast to golden brown under low broiler setting or in a hot cast iron pan.

Assembly : When the bread has cooled ... add heaping even spoonful of tomato bruschetta mixture, garnish with sliced ham of choice, layer several slices of ice cold melon next to the ham. Olives and lemon slices as appropriate.

Mixture can be used immediately or for best results used within 48 hour from preparation.
Other recipes you might like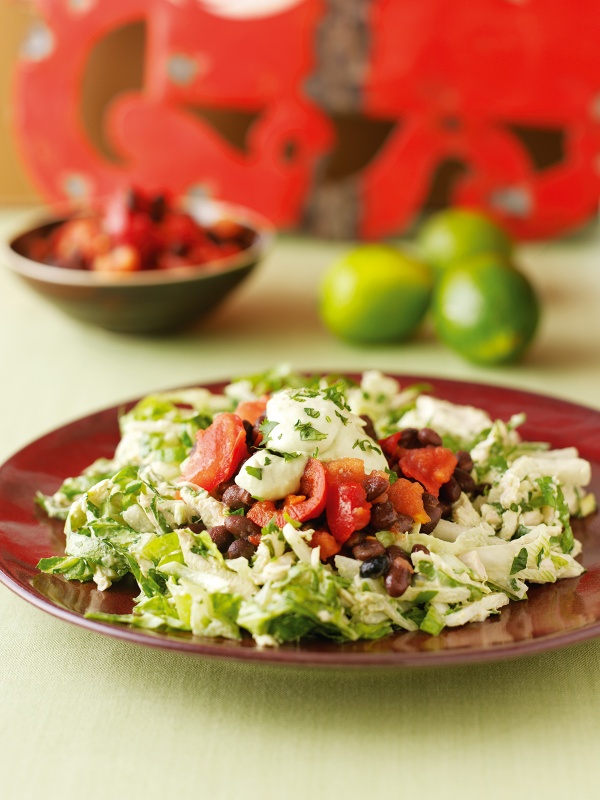 Mexican Chicken or Turkey Salad With Tomato and Black Bean Salsa