Print me
Introduction
Here is the recipe of "pishki", russian popular dessert. I guess the word "pishki" goes from the word "voluptuousness". Indeed, these doughnuts are voluptuous and round.They are soft, moist and tender.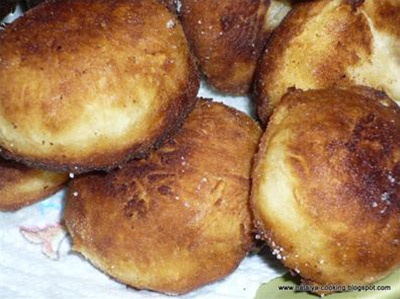 2 cups flour
3 tablespoons sour cream
2 eggs
3 tablespoons granulated sugar
1 pinch of vanilla sugar
⅓ ounce baking powder
extra virgin olive oil (for frying)
Method
Pishki or Russian Doughnuts is a community recipe submitted by Vishinka and has not been tested by Nigella.com so we are not able to answer questions regarding this recipe.
Whisk together sugar and eggs, then add sour cream. Incorporate flour and baking powder. Mix. You can use your hands to knead dough. If you see that your dough is sticky, add some more flour.
On a lightly floured surface knead dough, roll it out and cut circles. I used an espresso cup.
Add olive oil into a frying pan. Fry doughnuts in a medium heat from both sides until brown golden. It takes less than 1 minute per side.
Once fried, place them on a plate with paper towel to absorb the extra oil.
Sprinkle with icing sugar.
Additional Information
I love them with honey but you can eat them with any sort of your favorite jam: strawberry jam will be really perfect!
Other recipes you might like