More recipes
Recipe search
Mango and Passionfruit Cake With Quark Frosting
A community recipe by

Yorkshirepalette

Not tested or verified by Nigella.com
Print me
Introduction
This blissful indulgent cake is great for family celebrations or ladies that lunch!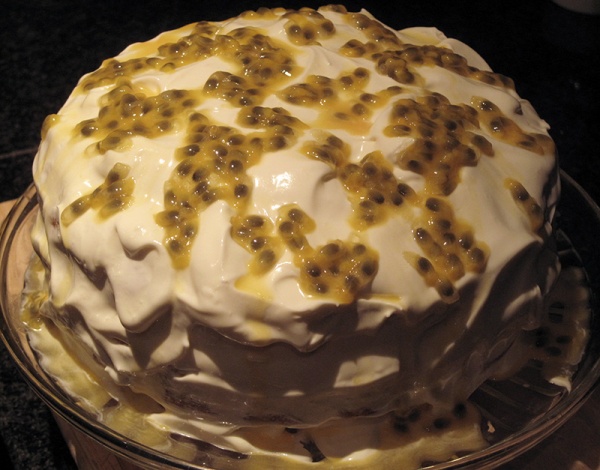 For the Sponge Cake
6 ounces superfine sugar
6 ounces softened butter
6 ounces sifted self-rising flour
3 eggs
1 vanilla bean
For the Mango Jam
1 tin mangos (a large tin)
1 sprinkling of superfine sugar
For the Topping
1 tub quark (fat free cream cheese)
1 tub heavy cream (a small tub)
2 fresh passionfruit
2 tablespoons confectioners' sugar
Please note that nigella.com is not able to accept responsibility for any substitutions that Ocado may need to make as a result of stock availability or otherwise. For any queries, head to ocado.com/customercare.
Feel free to use the "swap" feature and adjust brands and quantities as needed.
Method
Mango and Passionfruit Cake With Quark Frosting is a community recipe submitted by Yorkshirepalette and has not been tested by Nigella.com so we are not able to answer questions regarding this recipe.
For the Sponge, pre-heat your oven to 180°C and line/grease two sandwich tins ready for your cake mixture.
Cream the sugar and butter together until pale and fluffy. Add the eggs one at a time, with a couple of spoons of flour.
Fold in the remaining flour, taking care not to knock out any air. Scrape the seeds from the vanilla bean and gently fold in to the mixture.
Share the mixture between the two prepared sandwich tins (8" tins) and bake for 20 - 25mins.
Remove the cakes from the oven, once they are springy in the centre leave to cool in the tin for 10mins before removing completely.
While the cake is baking, drain the tin of mango and add the fruit to a saucepan with the sugar. Simmer on a low heat until the mango has broken up a little and has become sticky.
For the frosting, whip the cream and mix with the quark cream cheese. Add the confectioners' sugar a little at a time, as it can make the quark slightly runny. Once the mixture is sweet enough for your taste, put it in the fridge to firm up.
Once the cakes are cool it is time to assemble. Spread the mango jam on one cake and place the other side on top. Spread a thick layer of the quark and cream frosting over the whole cake making it as rustic or neat as you like. Remove the passionfruit pulp and drip over the top of the cake.
Make yourself a lovely cup of tea and enjoy!
Other recipes you might like