More answers
Chocolate Sauce Reheating
Asked by Immie. Answered on 2nd July 2015
Full question
I've made the Meringue Gelato Cake with Chocolate Sauce. The sauce has gone very thick, like ice cream in the fridge. How do I make it liquid again please?
Our answer
Nigella's Meringue Gelato Cake (from Nigellissima and on the Nigella website) is served with a chocolate sauce made from double (heavy or whipping) cream and dark (bittersweet) chocolate. This combination is known as a ganache and is the mixture used for chocolate truffles so when chilled the mixture will become quite firm.
To reheat the sauce you can spoon it into a heatproof bowl set over (but not in) a saucepan of simmering water. Heat the sauce for about 5 minutes, stirring regularly, or until it has become liquid again. If you have a microwave then you can also reheat the sauce using 10-second bursts. Stir the sauce between each burst and stop heating as soon as the sauce is mostly liquid with a few small lumps left. Once the sauce is out of the microwave keep stirring for a minute or two and the lumps should melt in the residual heat. For small amounts of sauce you can stand the jug of sauce in a bowl of hot water for a few minutes and this should be enough to re-liquefy the mixture.
Recipes you might like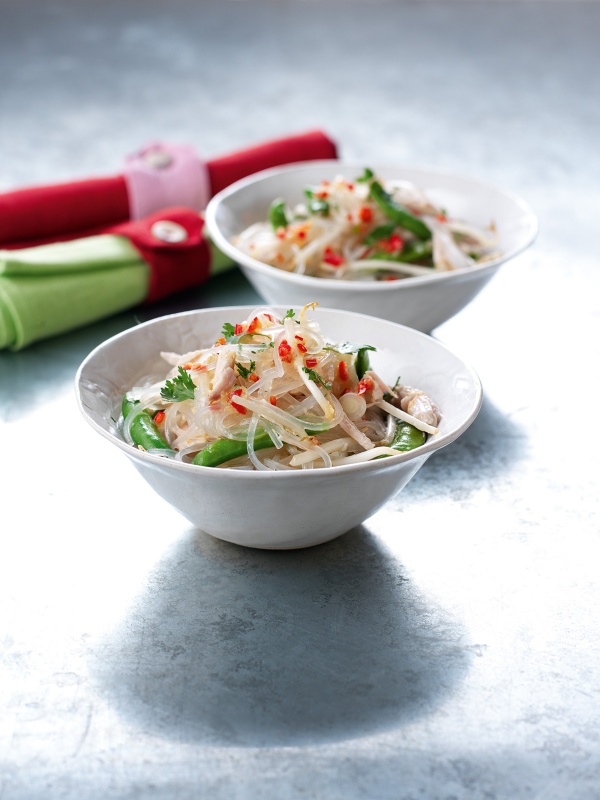 Turkey and Glass Noodle Salad