More answers
Thanksgiving Turkey for a Large Group
Asked by lvdkeyes. Answered on 26th October 2013
Full question
I am having a large group of 16 for Thanksgiving dinner. Turkeys available here generally are about 14 pounds. My oven isn't large enough to roast two turkeys at once. Can I roast them the day before, cut into pieces i.e; drumsticks, thighs, wings, breasts and heat them up on the day? if so, are there any special tips you can give?
Our answer
When calculating the size of turkey needed for a large group then most people suggest allowing 1 to 1 1/2 pounds of uncooked turkey per head. If your group contains children then you can err on the side of the smaller amount. And we would avoid trying to cook anything beyond a 25-pound bird. However you should be able to serve a 20 to 25 pound turkey to your guests and provide generous amounts of mashed potatoes and sides to make sure that no-one goes hungry.
In our experience many supermarkets in the US offer a turkey ordering service, as do many butchers, which will allow you to pre-order a larger turkey to be collected before Thanksgiving. For larger turkeys we would recommend following Nigella's brining instructions in the Spiced And Superjuicy Turkey recipe (from Christmas and on the Nigella website).
We would not recommend pre-cooking cut up turkeys and then reheating, as turkeys are notoriously dry and this would add to the dryness. If you do have to cook two turkeys then you should cut them up them and cook them on the day. Remove the legs and wings and backbone (or ask your butcher to do this) to make the breast into a "crown". Divide the legs into thighs and drumsticks. You can cook the breast crowns and calculate the cooking time for each crown to be 20 minutes per pound plus 20 minutes at 400F (you may need to remove one crown from the oven before the other if they are very different sizes). The drumsticks and thighs can take anywhere from 45 minutes to 1 1/2 hours, depending on size. Hopefully you can fit the breasts on one oven shelf and the legs and thighs on another. The wings are probably better roasted separately and used to make turkey stock for the gravy, or for another use.
All turkey should be cooked to an internal temperature of 165-170F and when you cut into the thickest part of the bird the juices should run clear.
Other Things You Might Like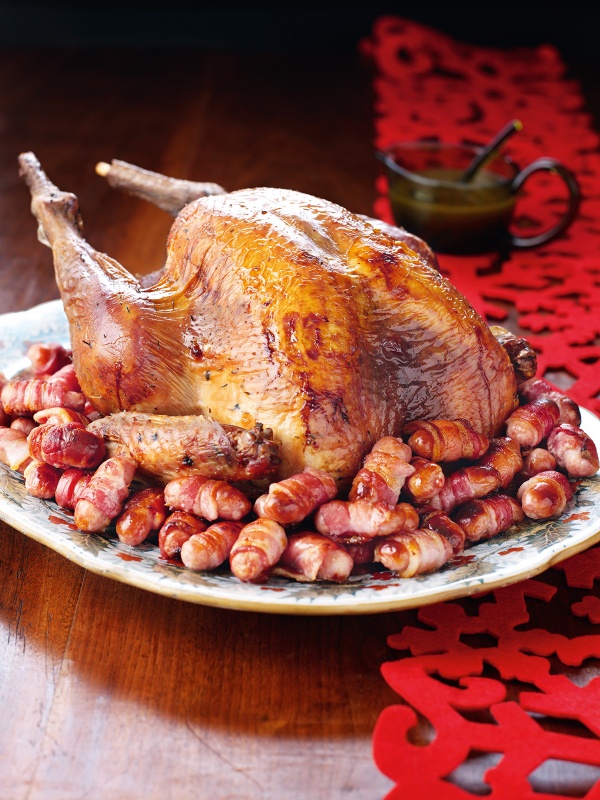 Spiced and Superjuicy Roast Turkey