Full question
In the recipe for Slow Roasted Garlic Lemon Chicken it says to use the garlic cloves unpeeled. You mean without peeling the garlic cloves? How is this possible?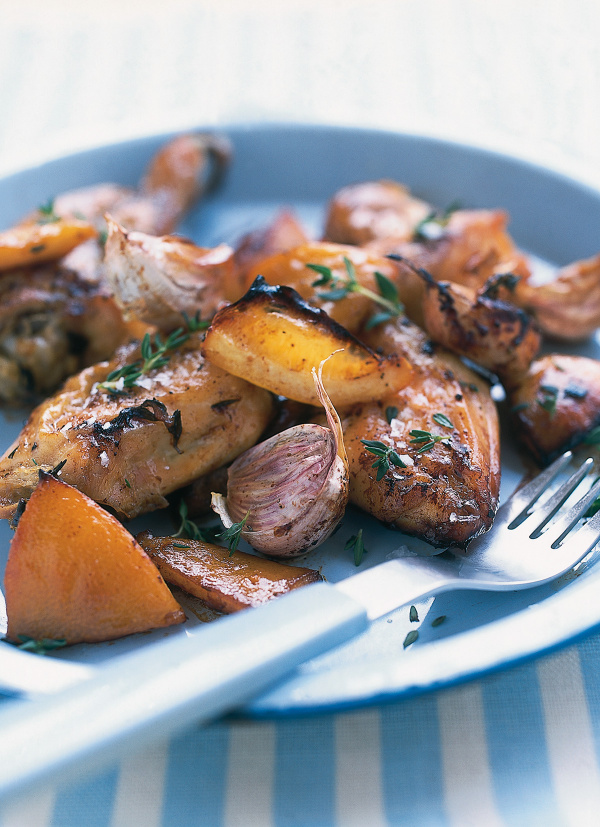 Slow Roasted Garlic and Lemon Chicken
Our answer
Nigella's Slow Roasted Garlic And Lemon Chicken (from NIGELLA SUMMER) is a traybake where all of the ingredients are cooked together slowly in one pan. The cloves of garlic are left unpeeled as this helps to keep the cloves intact and reduces the risk of burning. Peeling the individual cloves from a whole bulb (head) of garlic is also rather fiddly and time consuming so it is easier to cook them unpeeled.
The bulb of garlic should be broken open and all of the papery leaves around the cloves should be removed and discarded. The individual cloves, still in their own skins, are then put into the roasting pan. During cooking the garlic becomes soft and sweet and this garlicky paste can be squeezed out of the skin of each clove, to be eaten with the chicken.