When my children were little I spent many a weekend making Rice Krispie Cakes, though I had rather forgotten quite how delicious they were. I really don't see why they should be considered just tots' treats, and I am considering bringing them out with coffee when I have people for dinner.
It also occurred to me that they could be fashioned rather as brownies or squares, and once I had packed a rectangular foil tray with the mixture, I felt compelled to plant the chocolate Rice Krispie 'soil' with sugar flowers.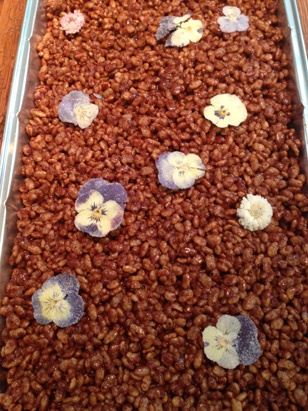 As you will see from this picture, the creation can be very pretty indeed. The recipe - simple as it is - can be found by clicking here and I hope you have fun making them.