Those who are more efficient than I am (and they - you - are numerous) have already started your Christmas cooking, but I'm here now, ready to join the community Christmas cooking club.
I am not a great one for starters before Christmas Dinner, but I will certainly have plates of Parmesan Shortbreads dotted around the place alongside a jug or two of my Christmas Cup, and may even offer the odd Poinsettia too - and if you want to do likewise, just follow the Christmas Cup recipe, but substitute Grand Marnier, Triple Sec or Cointreau for the Cherry Brandy and cranberry juice for the ginger ale.
The old fave, my Spiced and Superjuicy Turkey is hard to resist, but I do want to draw your attention, as well, to the Turkey Breast Stuffed with Italian Sausage and Marsala-Steeped Cranberries. This is particularly fab for a party, when you can cook it and slice it (easily) into generous slabs. I know that Perfect Roast Potatoes is an immodest title but, I promise you, they are a seasonal spud sensation. My mother always served her Brussels Sprouts with a lot of buttered chestnuts (and cooked and peeled her own). I have upped the ante by adding gorgeous salty pancetta cubes (feel free to substitute bacon) and been unapologetically lazier by buying vacuum-packed ready cooked and peeled chestnuts.
Oh dear: I am trying to keep this brief, but am finding it difficult as there is just so much food to celebrate at Christmas. I will end this uncharacteristically attenuated list of suggestions by saying to you: Ultimate Christmas Pudding; Salted Caramel Brandy Butter; Christmas Pudding for Christmas Pudding Haters; Yule Log; Star-Topped Mince Pies!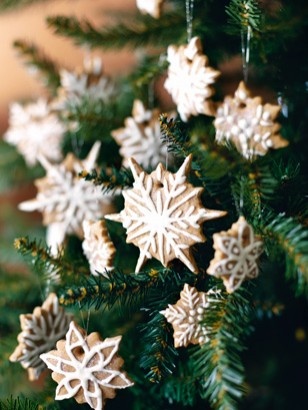 And now I'm going to begin my own festive season, my making up a batch of Edible Christmas Decorations with my children.
Merry Christmas from nigella.com and from me!