I have been so very bad at keeping myself and you up to date on my Kitchen Witter, but I have got an excuse: I've been haring about doing promo and generally talking excitedly about being part of a new programme for the US called The Taste. Think The Voice, but with cooking. In fact, it's so very more than that, since it's not about keeping looks a secret during auditions, but about tasting and judging food without ever knowing who has cooked it or what ingredients have been used.
You'd be surprised how hard it can be to work out what a certain dish is made of when all you get is one spoonful to taste. And - not that want to divulge details at this stage - since you don't know who's cooked what, it is all too easy to send home a cook from one of our own kitchens - easy and embarrassing! Oh, and I should say who the "our" refers to: obviously, there's me (in Mentor Mode in the thumbnail pic) the great Anthony Bourdain (also co-exec producer with me), Gallic gastro-god Ludo Lefebvre and lively American restaurateur Brian Mallarkey. You can see us in our judging seats below, and - a major excitement for me - in the poster below too. Although it was very thrilling to think of being up on a billboard in LA and around the States, I was very strict and English and told them they weren't allowed to airbrush my tummy out. Wise? Hmmm. But that tum is the truth and is come by honestly, as my granny would have said.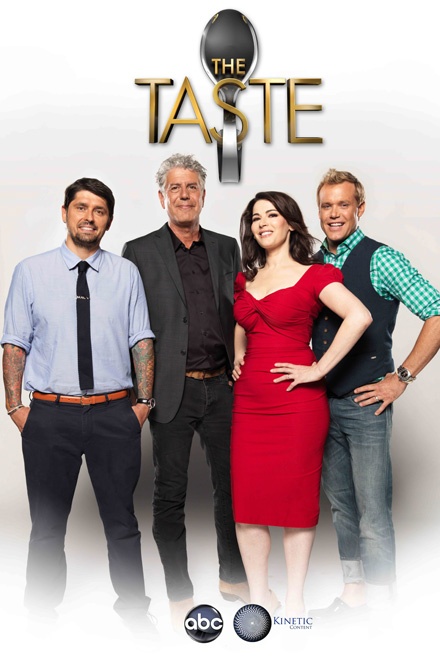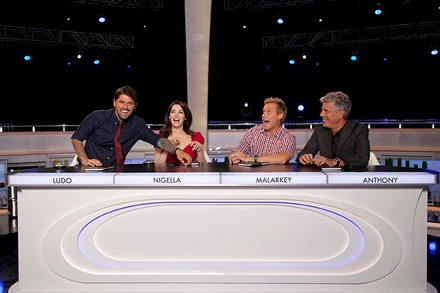 Anyway, must stop blathering now, but before I go, I should tell you that The Taste (and this first episode is a two-hour special of really nail-biting auditions) goes out Stateside on ABC from Tuesday 22nd - that's this coming Tuesday! - at 8pm, and at the same date and time in Canada on CTV. I know, too, that it will be airing imminently on Channel 9 Down Under, but other informations have I none!
Well, nearly none: let me tell you briefly that The Taste website is http://beta.abc.go.com/shows/the-taste and you can follow us on twitter on @TheTasteABC.
Bye for now, sorry if this has been deeply boring for those outside of Taste Territory (for now).....