Print me
Introduction
I find this very special bowl, a fragrant curry of sorts, is the vegetarian equivalent of a chicken noodle soup, both for comfort and health benefits. Add more coconut cream or milk if you would like more of a soup-y feel; the recipe here provides more of a sauce at the base of the bowl. Curry leaves can be tricky to find fresh, but are transformative; try Asian food shops, large supermarkets and the internet.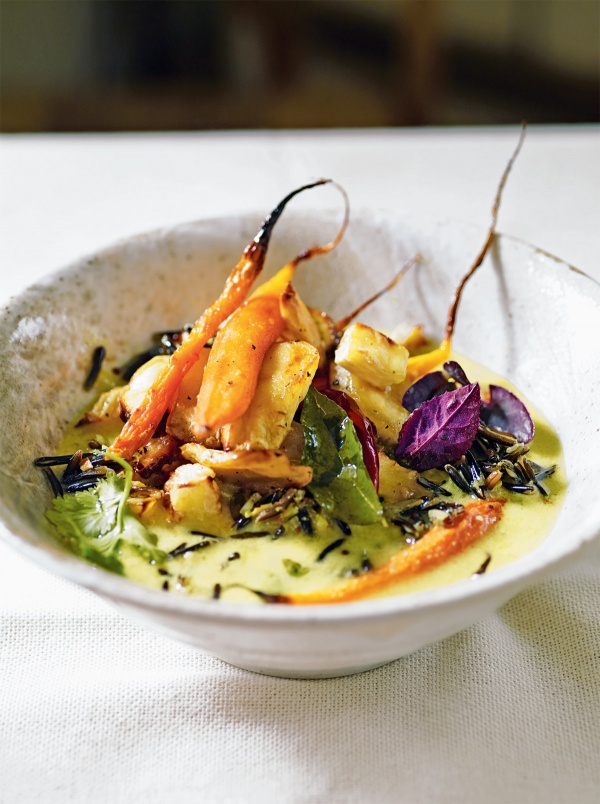 6 small carrots , scrubbed and thickly sliced if on the larger side
2 parsnips , scrubbed and thickly sliced
1 small celeriac , peeled and roughly chopped
sea salt
freshly ground black pepper
3 tablespoons coconut oil
thumb of fresh ginger
thumb of fresh turmeric
small handful of fresh coriander with roots
2 shallots , finely sliced
1 tablespoon black mustard seeds
1 clove garlic , finely chopped
1 sprig of fresh curry leaves
3 green cardamom pods , lightly crushed
1 dried red chilli
200 millilitres coconut cream
juice of ½ lime
200 grams cooked wild rice
red amaranth or other herbs to serve (optional)
Please note that nigella.com is not able to accept responsibility for any substitutions that Ocado may need to make as a result of stock availability or otherwise. For any queries, head to ocado.com/customercare.
Feel free to use the "swap" feature and adjust brands and quantities as needed.
Method
Spiced Turmeric Broth with Roast Vegetables is a guest recipe by Alice Hart so we are not able to answer questions regarding this recipe
Preheat the oven to 200C/gas mark 6. Spread the root vegetables out in a large roasting tin, season well and crumble 2 tbsp of coconut oil over them (or pour, if it is warm and liquid). Roast for 15 minutes, then use a spatula to tose the vegetables, distributing the melted oil evenly. Return to the oven for a further 15 minutes or so, until soft and caramelised.
Meanwhile, peel and finely chop the ginger and turmeric. Finely chop the coriander roots and stalks. Set the coriander leaves aside.
Put the remaining 1 tbsp of coconut oil in a deep frying pan or medium saucepan and set it over a medium-low heat. Add the shallots with a pinch of salt and fry gently for a few minutes, stirring now and then. Increase the heat and cook until they are beginning to catch at the edges, then add the mustard seeds and cook for a minute or two; they should pop and sizzle. Add the ginger, turmeric, coriander roots and stalks, garlic, curry leaves, cardamom and dried chilli, sautéing for 2-3 minutes. Stir in the coconut cream with 200ml of water, bring to the boil, then reduce the heat and simmer gently for 10 minutes. Season with salt and pepper and add the lime juice to brighten the flavours.
Divide the roast vegetables between serving bowls with the cooked wild rice. Ladle the broth over the top and finish with the coriander leaves and any other Asian herbs you have, such as red amaranth or Thai basil.
Other recipes you might like