Print me
Introduction
The roots of this dish come from a restaurant I used to work in where the head chef used to make a Japanese-style risotto using sushi rice, infusing ginger and other aromatics into the stock and serving it with seared scallops. I loved the dish so much that I developed a version with prawns that I often make at home.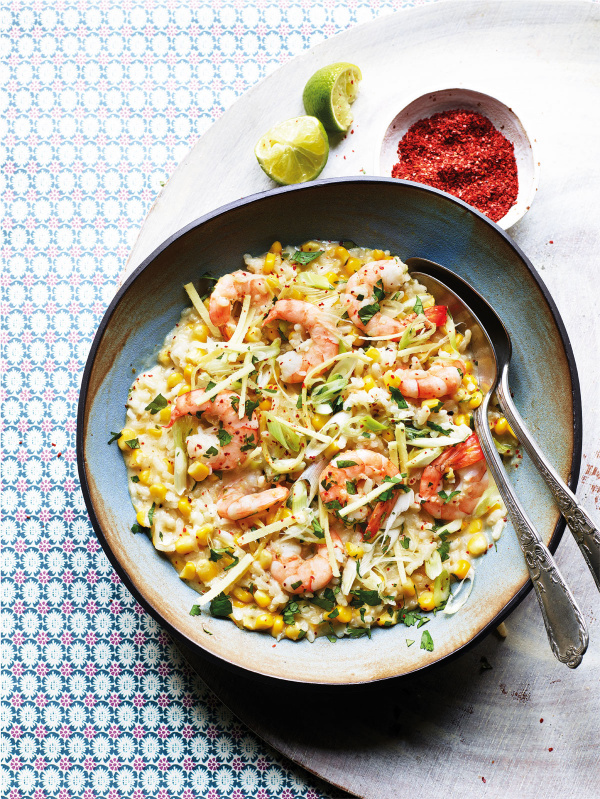 olive oil
5 centimetres piece of fresh ginger root (peeled and thinly sliced into matchsticks) plus extra to serve
2 lemongrass stalks (tough 2–3 outer layers discarded, soft insides bashed and finely chopped)
2 fat garlic cloves (finely chopped)
75 grams butter
120 grams risotto rice
2 sweetcorn cobs (kernels sliced off)
½ small packet (about 15g) of fresh coriander (stalks and leaves separated, both very finely chopped)
about 1 litre boiling water
12 - 14 raw peeled tiger prawns
4 spring onions (thinly sliced from root to tip) plus extra to serve
Maldon salt flakes and freshly ground pepper
2 pinches of pul biber chilli flakes to serve (optional)
Method
Aromatic Prawn & Sweetcorn Rice is a guest recipe by Sabrina Ghayour so we are not able to answer questions regarding this recipe
Heat a large saucepan over a medium-high heat and, once hot, drizzle in a little olive oil, add the ginger, lemon grass and garlic and stir-fry for a minute. Add half the butter and allow it to melt while stirring the ingredients. Don't let any of the ingredients, including the butter, take on any colour – remove the pan from heat if they begin to show signs of browning.
Add the rice and stir to coat in the butter mixture, followed by the chopped coriander stalks. Add the corn and stir well, and season generously with salt and pepper.
Add 200ml of the boiling water at a time and allow each addition to be mostly absorbed before adding the next, stirring regularly until the rice becomes creamy. (You might not need all the water.)
Add the remaining butter and keep stirring until you reach your desired consistency, then add the prawns and cook for a couple of minutes or until they turn pink (the cooking time will depend on the size of the prawns). Taste and adjust the seasoning if required. Finally, stir in the spring onions and chopped coriander leaves. Serve immediately, garnished with extra ginger and spring onion and sprinkled with pul biber if you like. This needs no accompaniment.
Other recipes you might like