Print me
Introduction
Cannelés - pastries traditionally from the Bordeaux region of France - are the perfect size for little hands to grab; these are especially good since they are baked in mini cannelé molds. It's best to prepare the batter the night before and bake the cannelés the following day. Don't forget the rum, since this is what gives a cannelé its unique flavor.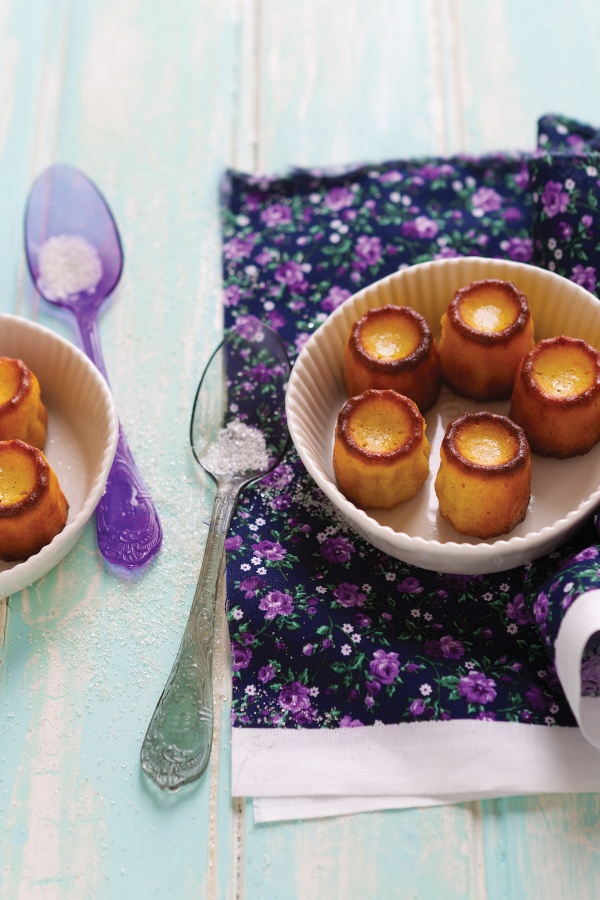 Ingredients
Makes: 30 mini cannelés
250 millilitres full fat milk
1 vanilla bean (split lengthwise and seeds scraped out)
30 grams unsalted butter
zest of 1 large orange
100 grams blond cane sugar
30 grams quinoa flour
25 grams cornflour or tapioca starch
1 pinch of sea salt
1 large egg
1 large egg yolk
20 millilitres rum
Method
Vanilla and Orange Cannelés is a guest recipe by Beatrice Peltre so we are not able to answer questions regarding this recipe
You will need: one 30-capacity mini cannelé mold (see note below).
In a small pot, heat the milk with the vanilla bean and seeds. Remove from the heat when it starts to boil. Stir in the butter until it melts, and add the orange zest. Cover and let infuse for 30 minutes. Strain and discard the vanilla bean and orange zest.
In a bowl, combine the sugar, quinoa flour, cornflour, and sea salt. Make a well in the middle, and add the egg and egg yolk. While beating with a whisk, add the milk gradually. Stir in the rum and beat just until consistency is uniform. Pour the batter into a pitcher. Cover and place in the fridge for a minimum of 12 hours or overnight.
The next day, preheat the oven to 210°C (410°F). Stir the batter before using. Fill each cannelé mold to 0.5 cm (1/5 inch) from the top. Bake the cannelés for 40 to 45 minutes, or until brown. Unmold while they are still warm. Let cool slightly and enjoy! They are best eaten when they are still slightly warm. You can reheat them in a preheated oven at 200°C (400°F) for 5 minutes.
Additional Information
Cannelé molds are specially designed to give the pastries a thick, caramelized crust with a tender pudding-like inside. Purists often prefer copper molds, but I find that sicilone molds work just fine, and they're cheaper.
Other recipes you might like