Print me
Introduction
Boot the beef for some beet! Serve with your choice of good old gravy.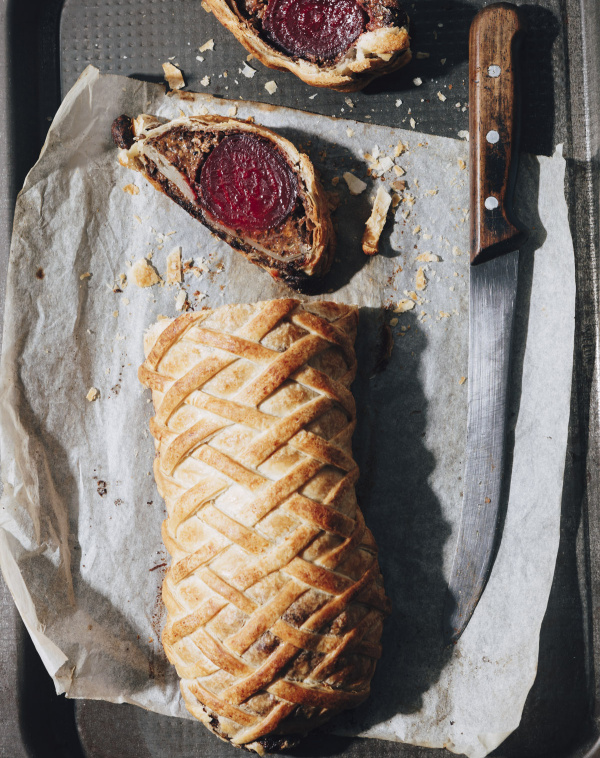 5 - 6 small beetroots (beets)
3 tablespoons olive oil
2 frozen (dairy-free) puff pastry sheets (thawed)
2 teaspoons soy milk
2 teaspoons aquafaba
FILLING
4 French shallots (diced)
200 grams mushrooms (chopped)
1 tablespoon chopped rosemary
2 teaspoons minced garlic
2 teaspoons chopped thyme
2 tablespoons white wine (or sherry)
200 grams tempeh
150 grams brown lentils (cooked)
2 tablespoons psyllium husk
1 tablespoon vegan Worcestershire sauce
1 tablespoon tomato paste (concentrated purée)
1 teaspoon Dijon mustard
½ teaspoon ground nutmeg
½ teaspoon liquid smoke
sea salt and black pepper (to season)
GOOD OLD GRAVY
80 grams dairy-free butter
40 grams plain flour
1 tablespoon beef-style stock powder
3 teaspoons dark soy sauce
2 teaspoons balsamic vinegar
1 teaspoon Marmite (or vegemite)
1 teaspoon black pepper
Please note that nigella.com is not able to accept responsibility for any substitutions that Ocado may need to make as a result of stock availability or otherwise. For any queries, head to ocado.com/customercare.
Feel free to use the "swap" feature and adjust brands and quantities as needed.
Method
Beet Wellington is a guest recipe by Zacchary Bird so we are not able to answer questions regarding this recipe
Preheat the oven to 225°C. Place the beetroot in a casserole dish (Dutch oven). Coat in 1 tablespoon of the oil, then roast for 1 hour, until soft. Peel while warm and set aside.
For the filling, place the shallot and another tablespoon of oil in a saucepan over low heat and gently sauté for 10 minutes. Add the mushroom and cook for 10 minutes, adding splashes of water intermittently so they are sitting in a shallow pool of boiling water until they begin to brown. Add the rosemary, garlic and thyme to the pan, then deglaze with the wine or sherry. Transfer to a food processor, add the remaining filling ingredients and pulse until well combined.
Lay a sheet of plastic wrap on a work surface and place a sheet of puff pastry on top. Evenly spread the filling over the pastry, leaving a 2 cm (¾ in) border. Place the beetroot along the centre of the wellington to fill most of the length. Use the plastic wrap to help you roll the filling and beetroot into a log, rolling the mushroom and pastry around the beetroot until both sides of the pastry meet. Flip the wellington over, then transfer to a baking tray lined with baking paper.
Tuck in the ends of the pastry to seal the log, then cut the remaining puff pastry sheet into thin strips and create a lattice on top of the wellington. Place in the fridge for an hour to firm up. Preheat the oven to 200°C.
Combine the remaining olive oil, soy milk and aquafaba in a jug, then brush all over the wellington. Transfer to the oven and bake for 35–40 minutes, until lovely and golden. To make the gravy, heat the butter in a saucepan over medium heat until bubbling. Sift in the flour and stir constantly for 1–2 minutes until you have a roux, then stir through the stock powder. Slowly stir in 500 ml (2 cups) of hot water, then add the soy sauce, vinegar and vegemite and simmer for 5–10 minutes until thickened. Taste and don't skip the pepper as it makes a great difference.
Allow the wellington to rest for 15 minutes, then slice into portions and serve with the good old gravy.
Other recipes you might like