Print me
Introduction
Welsh Rarebit is a noble version of cheesy toast. Everyone loves cheesy toast! Our Rarebit is a proud thing and, if we might say so, extremely popular. So it is odd that Fergus gleaned this recipe from a chef who had previously worked at Buck's Club, which was well known at the time for selling the worst rarebit in London.
There is another thing that we might add, if you are amused by a little mathematics. At St. JOHN Smithfield we sell an average of forty-five Welsh Rarebits per day. Taking into account annual closures, in this, our twenty-fifth year, we will have sold somewhere in the region of 405,000 rarebits. By the time we are thirty we will have surpassed the half-million mark. Onward!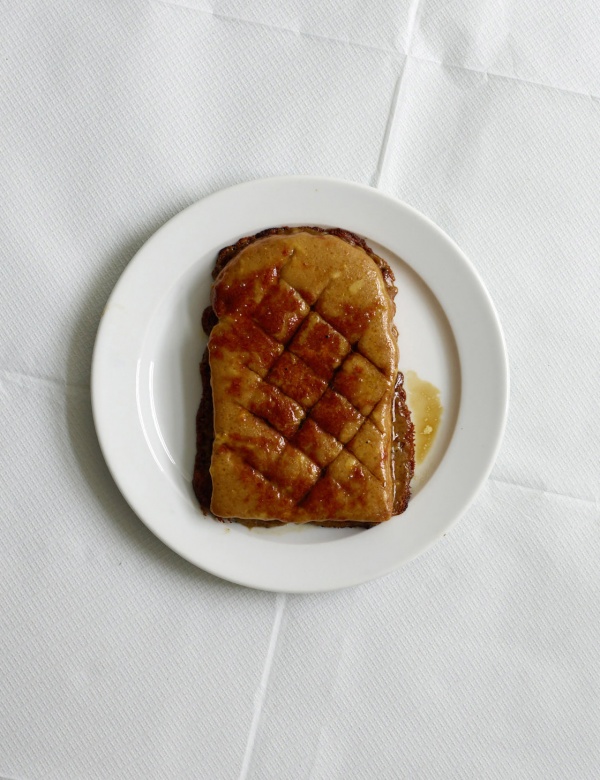 Ingredients
Serves: at least 4, depending on the dimensions of your toast
1 knob of butter
1 tablespoon plain flour
1 teaspoon english mustard powder
½ teaspoon cayenne pepper
1 very long splash of worcestershire sauce - and the bottle to serve
200 millilitres guinness
450 grams strong mature cheddar (grated)
4 pieces of good white bread
Method
Welsh Rarebit is a guest recipe by Fergus Henderson and Trevor Gulliver so we are not able to answer questions regarding this recipe
Melt the butter in a pan, stir in the flour, and let this cook together until it smells biscuity but is not browning. Add the mustard powder and cayenne pepper, stir in the Worcestershire sauce and the Guinness, then gently melt in the cheese. When it's all of one consistency, remove from the heat, pour out into a shallow container, and allow to set.
Take a piece of good white bread and toast on both sides. Allow to cool just a little, then cover one side with the rarebit mixture to about 1cm thick – if you find that it doesn't spread with ease, press it on with your fingers. Put on a baking sheet and place under the grill until golden and bubbling – grilling to just beyond your comfort threshold, to allow the flour to cook out.
When it comes to eating, irrigation channels are essential: make a gentle criss-cross pattern on your hot rarebit with a knife, creating the perfect flood plain for the Worcestershire sauce.
Other recipes you might like