Print me
Introduction
Naan may be the paradigm of yeasted flatbreads. Fresh from a tandoor oven and served with curries and roasted meat, this Indian bread is a delicacy. Poor facsimiles made with chemical dough softeners are now available in grocery stores, but naan with a long shelf-life and a long list of ingredients is not the real deal. The yogurt and ghee in this version ensure that the dough is tart and toothsome. Eat naan hot out of the oven if you can.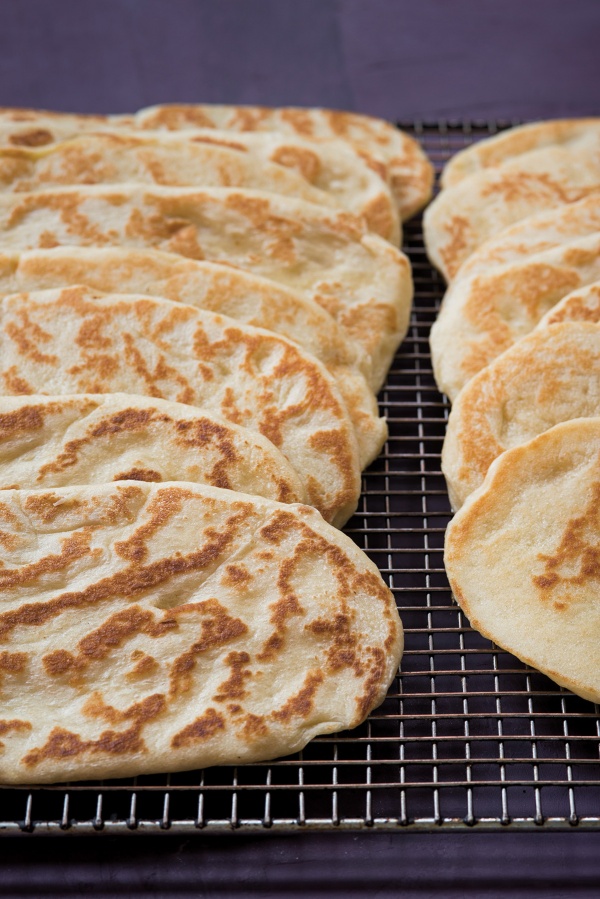 Ingredients
Makes: 12 (3 x 6-inch/7.5 x 15cm) pieces
1 teaspoon active dry yeast
55 grams water
620 grams bread flour plus extra for shaping
1 tablespoon Maldon sea salt flakes plus extra for serving
2 teaspoons sugar
½ teaspoon baking powder
180 grams full fat milk
180 grams plain full fat yoghurt
1 tablespoon ghee (clarified butter) or unsalted butter, melted, plus more as needed
Please note that nigella.com is not able to accept responsibility for any substitutions that Ocado may need to make as a result of stock availability or otherwise. For any queries, head to ocado.com/customercare.
Feel free to use the "swap" feature and adjust brands and quantities as needed.
Method
Naan is a guest recipe by Jessamyn Waldman Rodriguez so we are not able to answer questions regarding this recipe
Stir together the yeast and water in the bowl of a stand mixer fitted with a dough hook. Add the bread flour, salt, sugar, baking powder, milk, yogurt, and 1 tablespoon ghee to the bowl. Mix on low speed until all of the ingredients are combined, about 2 minutes. Increase the speed to medium-high and mix until the dough is smooth and leaves the sides of the bowl clean, about 5 minutes.

Coat the inside of a large bowl with some ghee and transfer the dough to it. Cover the bowl with plastic wrap or put the whole bowl into a large plastic bag and let the dough rise at room temperature until it is softer than a firm balloon, is supple, and holds an indentation when pressed lightly, about 2 hours.

Transfer the dough to a floured work surface and divide it into 12 equal pieces (each weighing about 3 ½ ounces/100 g). Roll each piece into a ball between the palms of your hands. Cover the dough balls with plastic wrap and let rise at room temperature until they're softer than firm balloons and hold indentations when pressed lightly, about 1 hour.

Put a pizza stone on the lowest rack of the oven and preheat to 500°F/260°C. Let the stone heat up for at least 30 minutes.

Working with one naan at a time (keep the rest covered with plastic), gently stretch and lightly press each piece of dough into an oblong shape, measuring about 3 x 6 inches/7.5 x 15 cm.

Using the back of a rimmed baking sheet, transfer the naan to the hot pizza stone, fitting as many as you can in a single layer. Bake until the edges are dry and the underside is browned, about 2 minutes. Use a large spatula to flip the naan, and bake until the underside is browned, another 2 minutes. Repeat the process with the remaining pieces of dough. Keep the baked ones warm in a towel-lined basket while you bake the rest.

Serve the naan warm, spread with ghee and sprinkled with salt, if desired. Any leftovers should be stored in an airtight plastic bag at room temperature. Reheat on both sides in a skillet over medium heat or in a 400°F/205°C oven.
Other recipes you might like