Print me
Introduction
A favorite (and regular) raw kimchi preparation in my family is this bibimguksu, which just means "mixed noodles." For a cold noodle dish, this one is surprisingly comforting. I was testing it in the summer when Jean's garden tomatoes were at their peak, so I added them and loved the fresh pops of umami they lent. Thick-skinned grape tomatoes are best here for their snap, but you can use whatever you like. My dad loves this.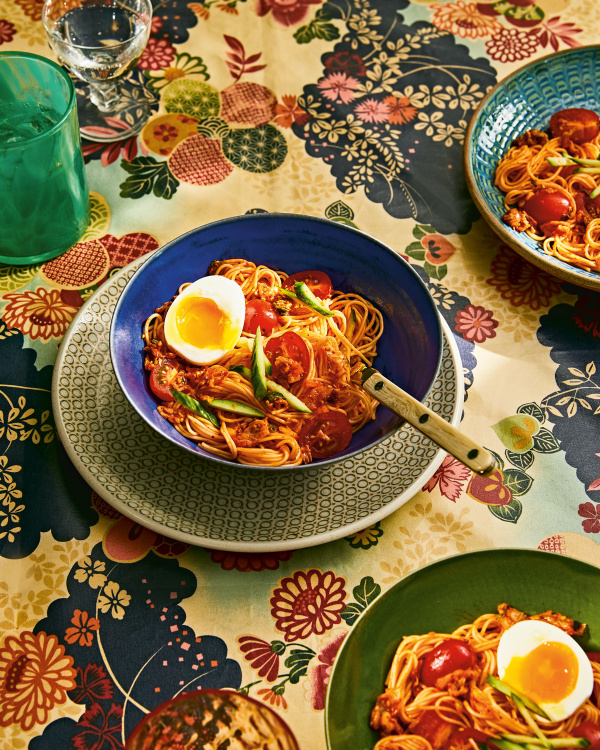 6 ounces somyeon or other thin wheat noodles
2 large eggs
1 tablespoon gochugaru red pepper powder
1 tablespoon sugar
1 tablespoon toasted Asian sesame oil
1 tablespoon toasted sesame seeds
½ cup finely chopped drained napa cabbage kimchi (store-bought or homemade)
1 pint grape tomatoes (halved)
1 small cucumber (julienned - for serving)
Method
Kimchi Bibimguksu With Grape Tomatoes is a guest recipe by Eric Kim so we are not able to answer questions regarding this recipe
Bring a medium pot of water to a boil and cook the somyeon according to package directions (usually about 4 minutes). Drain the noodles and rinse under cold water. Set aside.
Fill the same pot with water and bring it to a boil over high heat. Add the eggs carefully and reduce the heat to mediumlow to gently simmer for 6 to 7 minutes (this yields a soft-boiled egg). Using a slotted spoon, bring the eggs over to the sink and run them under cold water so you can grab them with your hands and tap the bottoms against the counter or other hard surface to crack the shell. Quickly run this under cold water again (the temperature shock will cause the egg white to contract slightly away from its shell, making it easier to peel). Peel the eggs and set aside.
In a large bowl, whisk together the gochugaru, sugar, sesame oil, and sesame seeds. Toss the kimchi in this mixture and add the noodles and tomatoes. Use your hands to mix everything together so the noodles are evenly coated in the kimchi dressing.
To serve, divide the noodles and tomatoes between two bowls. Slice each egg in half and top the noodles with the eggs and julienned cucumber.
Other recipes you might like