Print me
Introduction
There is nothing not to like about this dish and it can be easily made at home. Garlic, crisp bread and a creamy topping of sweet clams. The method was inspired by Pizza Pilgrims, the best pizza guys in London. During the lockdown of 2020 they launched an at-home pizza kit that fascinated me, and I watched their video on how to make a delicious pizza in a frying pan. It was genius and it works! Take the time to make this dish. It's super. If you like folded pizza, just fold it over before cooking and enjoy a 'clamzoni'.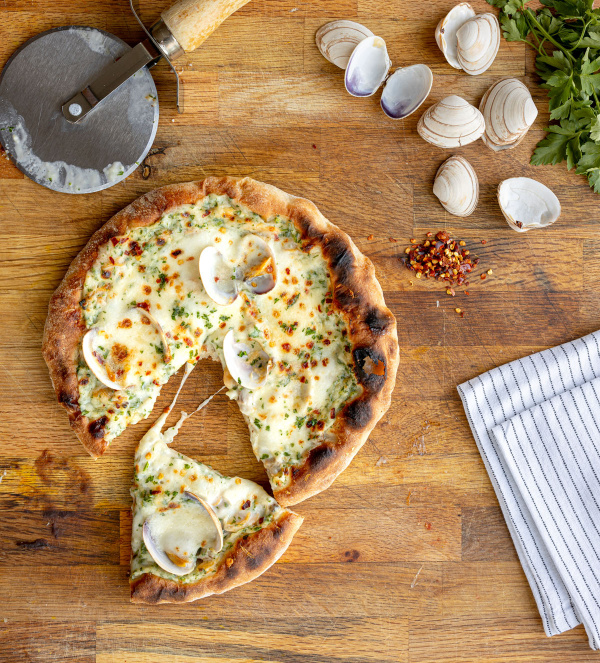 For the dough
1 x 7 grams sachet of fast-action dried yeast
500 grams strong white bread flour
325 millilitres tepid water
1 tablespoon olive oil
5 grams salt
5 grams caster sugar
For the sauce
1 kilogram live clams
100 millilitres white wine
1 bay leaf
1 peperoncini - hot red chilli
20 grams butter
20 grams plain flour
200 millilitres milk
2 cloves of garlic (grated)
1 handful of chopped fresh curly parsley
To finish
1 tablespoon grated Parmesan cheese
1 ball (about 125g) mozzarella (roughly torn)
Please note that nigella.com is not able to accept responsibility for any substitutions that Ocado may need to make as a result of stock availability or otherwise. For any queries, head to ocado.com/customercare.
Feel free to use the "swap" feature and adjust brands and quantities as needed.
Method
Pizza 'Claminara' is a guest recipe by Mitch Tonks so we are not able to answer questions regarding this recipe
Make the dough by mixing together the yeast, flour, water, olive oil, salt and sugar. Knead on a floured surface for about 5 minutes to make a nice elastic dough. Place in a bowl, cover with a tea towel or clingfilm and leave to rise until doubled in size. This will take 1-1½ hours depending on room temperature. Knock the dough back, then divide into 4 portions. Pinch and shape each into a ball and leave under the cover of a towel to prove for 30 minutes.
To make the sauce, prepare the clams. First check that all the shells are undamaged and tightly shut (or close when tapped). Rinse under cold running water to remove any grit or sand, then put the clams in a pan with the wine, bay and chilli. Cover and steam the clams until they open, about 2 minutes. When cooled, remove the clams from their shells, keeping the meat and the liquid; discard the shells and any clams that didn't open as well as the bay leaf and chilli.
Melt the butter in a smaller pan and stir in the flour. Cook for a couple of minutes to make a roux. Mix the clam cooking liquid and the milk together and pour gradually into the roux, stirring or whisking to make a smooth white sauce. Add the garlic and parsley and simmer for 3-4 minutes. The sauce should be creamy and quite thick. Add the clam meat and stir through. Set aside.
Shape each ball of dough into a disc to fit the pan you are going to use. Push up a raised rim all around.
Preheat the grill. Heat your ovenproof frying pan over a high heat and, when hot, place one of the pizza dough discs in it. Spread a quarter of the clam sauce over the pizza, up to the raised rim. Sprinkle with a little Parmesan and dot some mozzarella liberally all over the pizza. Cook for 4-5 minutes or until the bottom of the pizza is crisp and the edges are starting to rise.
Place the pan under the hot grill to finish cooking - the edges will rise and blister and the cheese will melt and brown. Once the pizza looks full of appeal, take it out and serve, then repeat with the remaining pizza dough discs and topping.
Other recipes you might like