Print me
Introduction
My friend Jan once drunkenly asked me to cook for his dad Anton's seventieth birthday, which I enthusiastically agreed to (also tipsy). Anton, aka Papa Florek or P Flo, grew up in Derby – his Polish father, Alfredo, had settled there after the war, when he was demobbed from the Carpathian Lancers.
Sernyk, a traditional cheesecake eaten across Poland and Ukraine, was one of Anton's childhood favourites, something that connected him to his Polish heritage, so I decided that's what I would make. Struggling to find good-quality cottage cheese the day before, I panicked and bought ricotta, adapting my mum's original recipe to suit the moister texture of ricotta. Happily, it was a huge success, and this cake is now also one of my son's favourites. I hope someone will make it for him when he is seventy.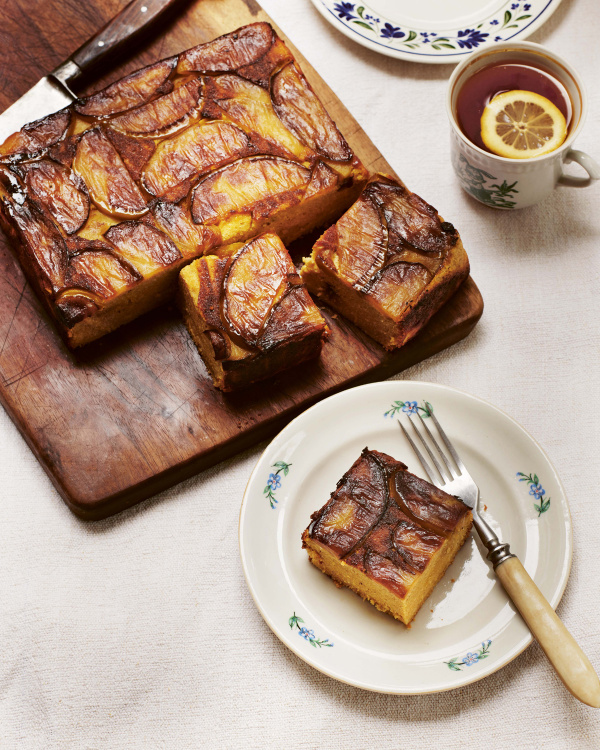 200 grams unsalted butter (softened)
200 grams apples (cored and sliced)
1 tablespoon brown sugar
200 grams golden caster sugar
3 eggs (separated)
1 teaspoon vanilla extract
500 grams ricotta cheese or good-quality cottage cheese
120 grams fine semolina or polenta
pinch of salt
Please note that nigella.com is not able to accept responsibility for any substitutions that Ocado may need to make as a result of stock availability or otherwise. For any queries, head to ocado.com/customercare.
Feel free to use the "swap" feature and adjust brands and quantities as needed.
Method
Curd Cake with Caramelised Apples is a guest recipe by Olia Hercules so we are not able to answer questions regarding this recipe
Melt 25g of the butter in a frying pan over a medium heat, add the apples and cook for 2–3 minutes on each side until they start to turn golden. Sprinkle in the brown sugar and cook the apples for another minute on each side, then transfer the caramelised apples to a bowl and let them cool slightly.
Preheat your oven to 200°C/Fan 180°C/Gas Mark 6 and grease a 20cm square or round cake tin with butter. Lay the apples in the base of the cake tin.
If, like me, you left your butter out in the kitchen overnight, but it was so blooming cold it didn't soften properly, cut the rest of it into small pieces. Whatever state the butter is in, put it into the bowl of an electric mixer fitted with the whisk attachment, along with 150g of the caster sugar, and whisk until it's looking fairly fluffy. Break the egg yolks with a fork and gradually add them, whisking well, then whisk in the vanilla extract and cheese. Transfer the mixture to another bowl, then fold in the semolina or polenta (the latter will result in a cake with more texture).
Wash and dry your mixer bowl and whisk attachment thoroughly, then put in the egg whites and whisk until they start frothing up. Add the remaining 50g of caster sugar and the salt and keep whisking until you have soft peaks. Now take a large spoonful of the egg white mixture and fold it quite vigorously into the butter and cheese mixture to loosen it up. Add the rest of the egg white mixture and fold in gently. Pour the mixture over the apples in the cake tin and bake for 30 minutes, or until it is a little wobbly, but not liquid. Remember it will set more firmly as it cools.
Leave the cake in its tin to rest and cool down, then slice and serve. Some unsweetened tea with lemon goes perfectly with this.
Other recipes you might like