Print me
Introduction
If you are familiar with vitello tonnato, veal with a tuna, egg and caper sauce, then that will give you some idea of this tuna sauce enriched with egg yolks which clings to the shells, and also shines. The recipe is an adaptation of one by Lisa Biondi, a prolific recipe writer and author of numerous stylish and trend-setting books in the 60s and 70s, who turned out to be the entirely fictional creation of a publishing house.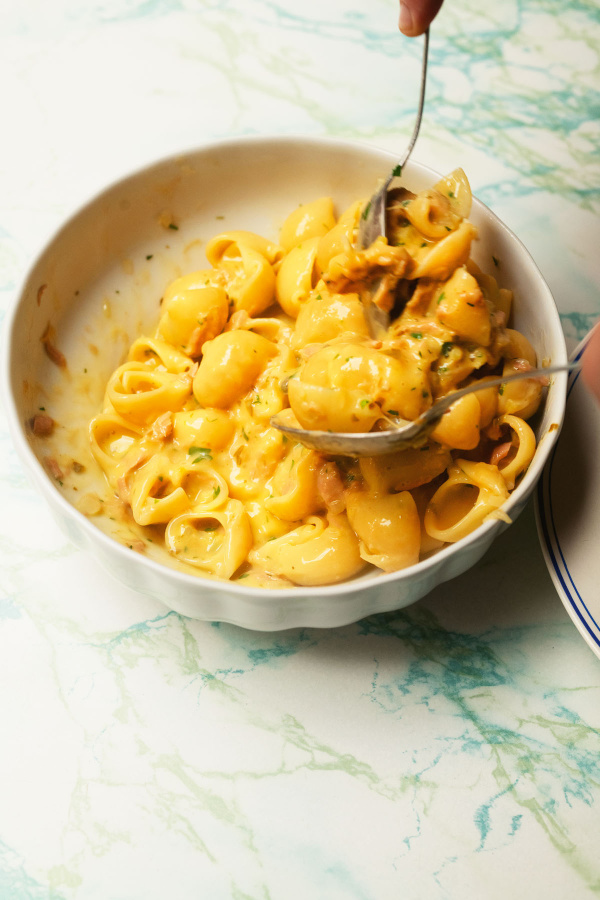 1 large onion
1 stick of celery
6 tablespoons olive oil
salt and black pepper
1 x 200g tin of oil-packed tuna (drained)
2 tablespoons tiny capers (rinsed)
200 millilitres white wine
1 unwaxed lemon
400 grams lumache pasta
1 sprig of fresh flatleaf parsley (finely chopped)
2 egg yolks (beaten)
Please note that nigella.com is not able to accept responsibility for any substitutions that Ocado may need to make as a result of stock availability or otherwise. For any queries, head to ocado.com/customercare.
Feel free to use the "swap" feature and adjust brands and quantities as needed.
Method
Lumache with Tuna, Egg and Capers is a guest recipe by Rachel Roddy so we are not able to answer questions regarding this recipe
Bring a large pan of water to the boil for the pasta.
Peel and dice the onion. Trim the celery to the palest bit, pull away any strings and dice that too. Put the onion and celery into a frying pan with the olive oil and a pinch of salt and then on to a medium-low flame and cook until soft, which will take a while.
Add the flaked tuna and capers, stir a minute, then add the wine and allow to bubble for 10 minutes, adding 3 tablespoons of lemon juice and some zest in the last minutes. It should be saucey - if it is watery, cook a bit longer.
Meanwhile cook the pasta until al dente, drain and tip into a warm serving bowl, tip the sauce on top, add the parsley, toss quickly, then add the yolk, toss again and serve.
Other recipes you might like