Print me
Introduction
For this recipe it is easy to convince yourself you are being virtuous. The zucchino is, after all, a vegetable. (Yes, I know it is actually a fruit, but let's not split hairs, eh?) It counts as one of your five-a-day, right? Well, I'm not so sure that the batter and deep-frying would convince a nutritionist but, good golly, these are tasty. Several of our customers come back to the restaurant specifically for this dish, happily admitting that they are addicted. Your habit starts here.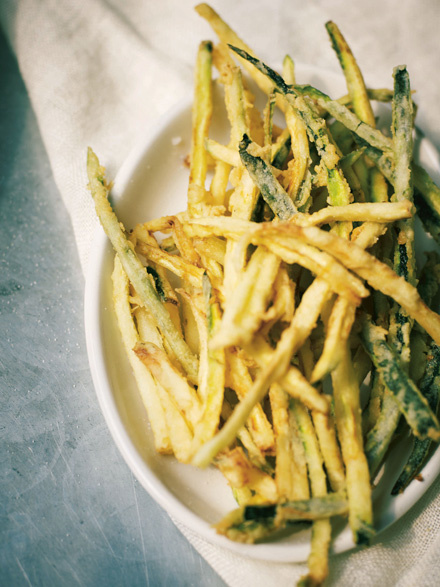 6 large zucchini
1 litre vegetable oil (for deep-frying)
500 millilitres cold milk
500 grams plain white flour (seasoned)
1 large pinch of fine sea salt
Please note that nigella.com is not able to accept responsibility for any substitutions that Ocado may need to make as a result of stock availability or otherwise. For any queries, head to ocado.com/customercare.
Feel free to use the "swap" feature and adjust brands and quantities as needed.
Method
Zucchini Shoestring Fries is a guest recipe by Russell Norman so we are not able to answer questions regarding this recipe
Using a comb attachment on a mandoline (if you have one), slice the zucchini lengthways to create fries 4mm across. Alternatively cut the zucchini by hand. The end raw result should be lengths of zucchini that look like shoestrings.
Half fill a deep pan with the oil and bring it up to 190°C (or until a cube of bread dropped in the oil turns golden in less than a minute).
Carefully dredge the strings in the milk and shake around in the seasoned flour. Then place the fries in the boiling hot vegetable oil for 3 minutes, or until light brown.
Drain the excess oil on kitchen paper and sprinkle with fine salt.
Other recipes you might like