Print me
Introduction
We make this salad exactly how my grandma Grazia used to make it. It's spicy and sour, and totally addictive. I like to have it with merguez sausages, but it also works really well with fish and seafood. Just make sure to pair it with a strongly flavoured protein — one that can put up a good fight in the face of the intensity of this salad. When all's said and done, my favourite way to eat it is simply with some plain white rice.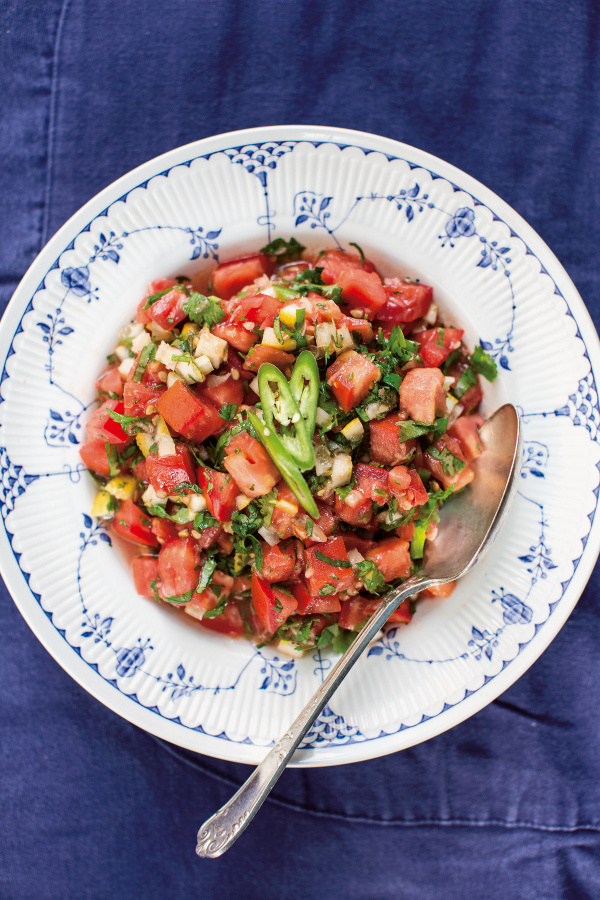 7 - 8 firm tomatoes (cut into 1cm cubes) and keep all the juice/pulp that is left on the chopping board from cutting (that's the secret of this salad!)
1 large fresh green chilli (deseeded and finely chopped - include the seeds if you like it extra hot) plus a few slices to garnish
1 unwaxed lemon (first sliced into rounds 1cm thick, then deseeded and cut into 1cm cubes, including the rind)
1 bunch fresh coriander (roughly chopped)
1 small red onion (chopped into small cubes)
2 tablespoons fresh lemon juice
50 millilitres olive oil
salt (to taste)
Method
Grazia's Tomato Salad is a guest recipe by The Palomar so we are not able to answer questions regarding this recipe
Mix all the ingredients together in a bowl, leave the salad to sit for 5–10 minutes, garnish with a few chilli slices before serving.
Other recipes you might like