Print me
Introduction
I should really take the salad out of this title, because, let's be honest, we're all here for the crumpet croutons. Once baked, their inherent holes crisp up and allow for an extra crunchy crouton experience which will leave you wondering if you'll ever do it any other way again. Add these croutons to just about any salad in the book — they're especially wonderful atop a salad made from leftover curried roast chicken.
This salad uses Middle Eastern chillies in the oil, as well as many other ingredients that would never be used in Sichuan cuisine, but nonetheless it is very much inspired by the inimitable cucumber salad at Xi'an Biang Biang Noodles in East London (not the crumpet croutons part, of course).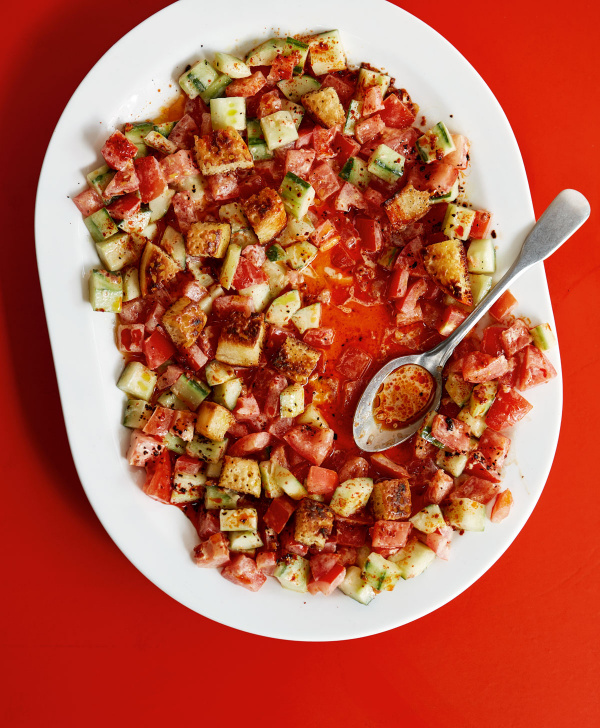 1 large cucumber - peeled, halved and watery centre scraped out (260g)
5 ripe plum tomatoes (650g) - chopped into 1½ –2cm cubes, seeds discarded (360g)
⅓ teaspoon fine salt
½ large lime
CRUMPET CROUTONS
3 crumpets (160g) - cut into 2½ cm chunks
3 tablespoons olive oil
1 large clove of garlic - finely grated/crushed
¼ teaspoon fine salt
freshly ground black pepper
CHILLI OIL
4 tablespoons olive oil
1 large clove of garlic - very finely chopped
1½ teaspoons tomato puree or tomato paste
1¼ teaspoons pul biber or Aleppo chilli flakes (plus extra to serve)
¼ teaspoon Urfa chilli flakes (plus extra to serve)
⅛ teaspoon fine salt
TAHINI GINGER SAUCE
60 grams tahini (shake the container well before using)
1 teaspoon fresh ginger - peeled and finely grated
1½ tablespoons soy sauce
2 tablespoons lime juice
½ tablespoon water
1½ tablespoons maple syrup
Method
Tomato, Tahini and Ginger Salad with Crumpet Croutons is a guest recipe by Ixta Belfrage so we are not able to answer questions regarding this recipe
Preheat the oven to 180°C fan/200°C.
For the salad, chop the cucumber into 1½–2cm cubes. Put them into a bowl with the tomatoes and fine salt and lightly crush with your hands. Set aside while you prepare the rest.
Put the crumpets on a flat baking tray with the oil, garlic, fine salt and plenty of pepper. Mix well and bake for about 14 minutes, tossing halfway, until crisp and golden-brown. Set aside to cool.
For the chilli oil, heat the olive oil in a small saucepan on a medium heat for 1½ minutes. Remove from the heat, add the garlic, tomato purée/paste, both chilli flakes and fine salt and whisk well to combine.
Put all the ingredients for the tahini ginger sauce into a medium bowl and whisk until smooth.
Add the tahini sauce and a third of the chilli oil to the bowl with the tomatoes and cucumbers. Stir together but don't overmix, you want the sauce to be streaky with the oil. Tip onto a lipped platter and squeeze over half a lime.
Sprinkle over some more pul biber and Urfa chilli. Finish with the remaining chilli oil and the croutons and serve.
Additional Information
MAKE AHEAD:
The tahini ginger sauce will keep for up to 3 days in the fridge. The chilli oil will last for up to 3 weeks.
Other recipes you might like