Print me
Introduction
Some people think this is a really is a weird way to eat potatoes! In my family, they are an essential part of Christmas Eve dinner. The secret to the perfect caramel potato is time; let them simmer slow and easy while you turn them gently now and then, so they are coated with caramel over and over again.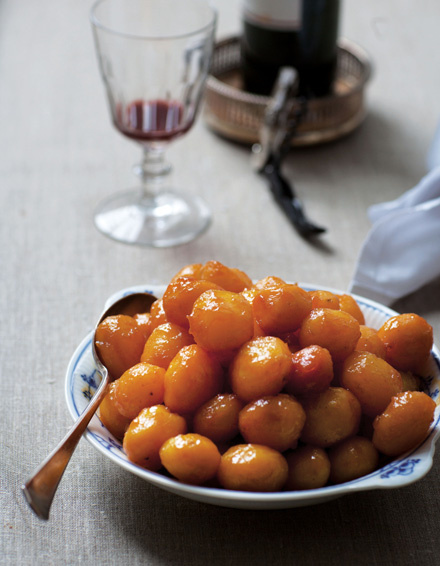 2 kilograms small potatoes
300 grams caster sugar
175 grams salted butter (cut into pieces)
Please note that nigella.com is not able to accept responsibility for any substitutions that Ocado may need to make as a result of stock availability or otherwise. For any queries, head to ocado.com/customercare.
Feel free to use the "swap" feature and adjust brands and quantities as needed.
Method
Caramel Potatoes is a guest recipe by Trine Hahnemann so we are not able to answer questions regarding this recipe
Boil the potatoes in salted water until tender. Peel them and leave to cool. (This can be done the day before.)
Place the peeled potatoes in a colander and pour cold water over them. Leave them to drain well.
Melt the sugar over a very low heat in a big heavy-based saucepan. Don't stir it!
When melted and golden brown, add the butter and let the mixture simmer until it becomes a caramel, stirring as little as possible.
Add the potatoes and gently turn them in the caramel. Let them simmer at low heat for 35–40 minutes, turning often, until they are coated in caramel on all sides. Serve.
Other recipes you might like