More recipes
Recipe search
White Chocolate Vanilla Bean Scones
A community recipe by

anharcrow

Not tested or verified by Nigella.com
Print me
Introduction
Recipe Created by Angela Harcrow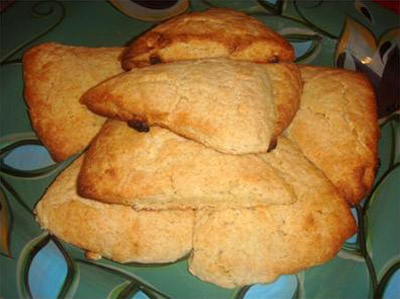 2 cups flour
2 teaspoons baking powder
⅓ cup sugar
⅕ teaspoon salt
½ cup butter (cut into small pieces)
1 large egg
⅔ cup heavy cream
½ vanilla bean (seeds extracted)
4 ounces ghirardelli chocolate
Method
White Chocolate Vanilla Bean Scones is a community recipe submitted by anharcrow and has not been tested by Nigella.com so we are not able to answer questions regarding this recipe.
Preheat oven to 450 degrees.
Lightly grease (or spray) a baking sheet; set aside.
In a large bowl add the flour, baking powder, sugar and salt. Mix together.
Add the butter and cut in with a pastry blender or two knives.
Using a zesting micro-plane - zest 2 ounces of the chocolate and coarsely chop the other 2 ounces.
Fold into the flour mixture. In a separate bowl whisk together the egg, vanilla and cream.
Add cream to the flour mixture and mix until all dry ingredients are moist.
Put dough out on a lightly floured surface and knead out into a circle around 8-9 inches in diameter.
Cut into 8 wedges.
Place on the prepared baking sheet about 1 inch apart.
Bake at 425 degrees for about 15 minutes or until brown.
Other recipes you might like